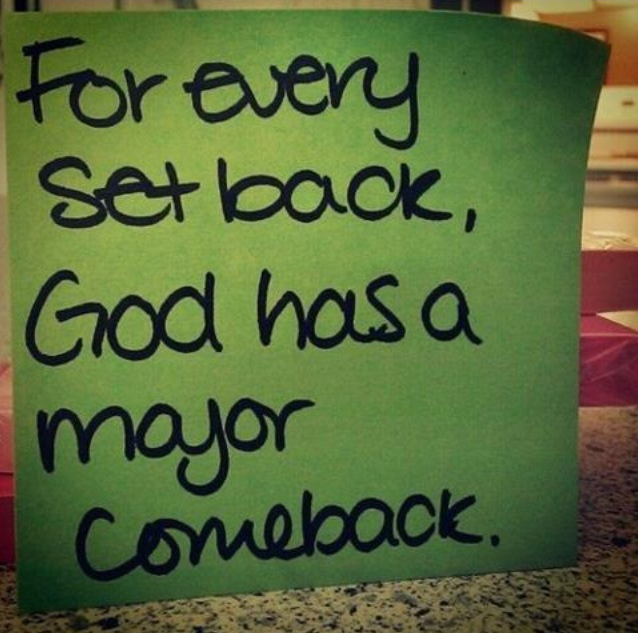 Are you currently facing a setback or some sort of adversity ?
By the time you get to the bottom of this page, you might look at the situation you're in and look at it much differently…!
Adversity has always been a factor of measure on the level of greatness each of us possess. It sparks the dormant soul  into perpetual motion and reignites the fire within us. In the words of Thomas Carlyle, a Scottish Satirical writer, "Adversity is the diamond dust Heaven polishes its jewels with."
That's why I've ranked the top 10 & some of the most powerful perspectives on setbacks, adversity and failure from some of our world's most successful people.
Their definitions, quotations, formulas, misconceptions, and principles paint a clear picture of the mindset of a success.
Encountering setbacks is the common characteristic in the lives of successful people. Business leaders, actors, authors and athletes live through significant periods of failure before finding the pathway to success.
Each individual refused to be a failure in life. Multiple attempts to see a dream come true have meant hardship and loss at various points.
Success stories provide inspiration for people who are stuck in a "failure," but refuse to accept the label. Individuals possess certain characteristics that determine how each obstacle will be moved on the pathway to a dream.
Each setback becomes a challenge to be overcome instead of a defeat. Anyone seeking remarkable success in life must be prepared for failures and respond appropriately.
#1 – Recognize failure as a part of life and take ownership of personal mistakes.
Inventor Thomas Edison is credited with inventing the first long-lasting, practical electric light bulb in his lab in Menlo Park, New Jersey. Through more than 2,000 attempts, Edison believed he learned something important about the final design of the incandescent light bulb.
Edison's inventions changed the world of music and photography forever. No one would believe that Thomas Edison attended school for three months before the teachers decided he was "addled." His mother is credited with teaching him to learn.
Edison developed hearing problems at a very young age because of a bout of scarlet fever. None of his challenges prevented him from becoming the most prolific inventor of the 19th century.
#2 – Never internalize negative feelings or lose control over emotions.
Steve Jobs, Former CEO and Founder of Apple Corporation, was fired from his beloved company in 1985. His feelings of despair and rejection provided the impetus to find another venture that would revolutionize animated films.
Pixar Studios came about through the creative genius of Steve Jobs, Ed Catmull and Alvy Ray Smith. In 1996, Jobs rejoined Apple and his inventive genius guided the company to become the most valuable company on the globe.
Here is Steve Jobs Speech in the Stamford commencement address as he publicly spat out for the first time about his setback:
Well, as Apple grew we hired someone who I thought was very talented to run the company with me, and for the first year or so things went well. But then our visions of the future began to diverge and eventually we had a falling out. When we did, our Board of Directors sided with him. So at 30 I was out. And very publicly out. What had been the focus of my entire adult life was gone, and it was devastating.

I really didn't know what to do for a few months. I felt that I had let the previous generation of entrepreneurs down – that I had dropped the baton as it was being passed to me. I met with David Packard and Bob Noyce and tried to apologize for screwing up so badly. I was a very public failure, and I thought about running away from the valley. But something slowly began to dawn on me – I still loved what I did. The turn of events at Apple had not changed that one bit. I had been rejected, but I was still in love. And so I decided to start over.

I didn't see it then, but it turned out that getting fired from Apple was the best thing that could have ever happened to me. The heaviness of being successful was replaced by the lightness of being a beginner again, less sure about everything. It freed me to enter one of the most creative periods of my life.

During the next five years, I started a company named NeXT, another company named Pixar, and fell in love with an amazing woman who would become my wife. Pixar went on to create the worlds first computer animated feature film, Toy Story, and is now the most successful animation studio in the world. In a remarkable turn of events, Apple bought NeXT.

I returned to Apple, and the technology we developed at NeXT is at the heart of Apple's current renaissance. And Laurene and I have a wonderful family together.

I'm pretty sure none of this would have happened if I hadn't been fired from Apple.It was awful tasting medicine, but I guess the patient needed it. Sometimes life hits you in the head with a brick. Don't lose faith…. —Steve Jobs
#3 – Respond aggressively to any challenge and take decisive action.
The name Disney conjures mental images of feature-length films and magical theme parks where adults relive childhood fantasies. Walt Disney established his first film ad company in Kansas City. Making commercials was not as interesting to young Walt as animating short films.
His next venture produced cartoons that would run before movies in theaters around the country. Many different attempts to create a successful film company were made before Mickey Mouse was drawn for the first time.
#4 – Discard the status quo in order to redesign the approach to the dream.
Vanguard Group was founded after John C. Bogle, or Jack, was ousted in a boardroom coup in 1975. Bogle redefined the mutual fund industry when he established the first index fund for individual investors.
In addition, he popularized index funds and drove costs down across the industry. Today, the Vanguard Group manages $2.0 trillion in assets, which are owned within the funds and the investors.
#5 – Realistic view of the potential for failure without being a pessimist.
Thomas Watson is most famous for transforming IBM Corporation into the best sales force in the computer industry. Prior to that, Watson endured many professional failures when others thought he was incapable of selling his quota.
Each "failure" caused Watson to look within himself and find better ways to meet buyers' needs. IBM became the driving force behind mainframe computers because of Watson's high standards.
#6 – Discomfort and inconvenience are tolerated if the important goal is in sight.
Harry Potter author J.K. Rowling was living an unremarkable life following her divorce in 1993. Poverty had taken over and she considered herself, "the biggest failure I knew." The idea for the Harry Potter book series came fully formed to her mind while enduring a four-hour train delay from Manchester to London.
Without a pen to make notes, Rowling spent four long hours allowing her mind to work through the details that would become the best-selling book series in history. Countless publishers rejected the series until one decided to take the chance.
A reporter once asked her how much money Harry Potter had made for her personally. Rowling responded, "I will not answer that question." Most people believe it to be in the billions.
#7 – Waiting is essential for becoming a success that lasts.
Abraham Lincoln is considered to be the best President the United States has ever had. His road to the White House was peppered with lost elections at many levels of state and federal governments. Lincoln knew that one day he would become president if he waited for the right time.
At the age of 51, after many personal tragedies and losses, Abraham Lincoln became the 16th president of the United States. His leadership held the Union together through the devastating losses of the Civil War.
He signed the Emancipation Proclamation to free the slaves from the southern states. Lincoln is remembered for his strong leadership. Unfortunately, his second term was cut short by an assassin's bullet at the Ford Theatre on April 14, 1865. He died on the morning of April 15, 1865.
#8 – High standards for success come from having heroes to follow.
In the 1990s, children everywhere awaited the release of new VeggieTales films. Founder of Big Idea Productions, Phil Vischer, worked tirelessly with the entire team to sustain a production schedule that would retain market share against many other up and coming film series.
From a young age, Vischer dreamed of being the next Walt Disney. He had studied Disney's creative approach and determined to parallel his success. In 2003, Big Idea declared bankruptcy, and Phil Vischer suffered a stunning failure.
His understanding of Disney's ability to start again gave him the encouragement necessary to establish a new children's television network called JellyTelly. Programming on the new network continues to expand while featuring content for kids.
#9 – Passion drives success.
Babe Ruth is considered the greatest baseball player of all time. Few people realize that he has more strike outs than any other player. He struck out 1,330 times. His record of 714 home runs stood until 1974 when Hank Aaron surpassed the record.
Babe Ruth had a lifetime batting average of .342. His love for baseball drove his belief that he had to swing at every pitch that was thrown across the plate. Ruth said, "Every strike brings me closer to the next homerun."
#10 – Critics and naysayers are unable to foresee the future and are not to be believed.
Harrison Ford was fired from Columbia Pictures and informed that he would never make it as an actor in Hollywood. The comment is laughable since he has become one of the most successful actors in history with his remarkable character "Indiana Jones."
Ford never listened to the scathing words of Jerry Tokovsky who fired him so many years before.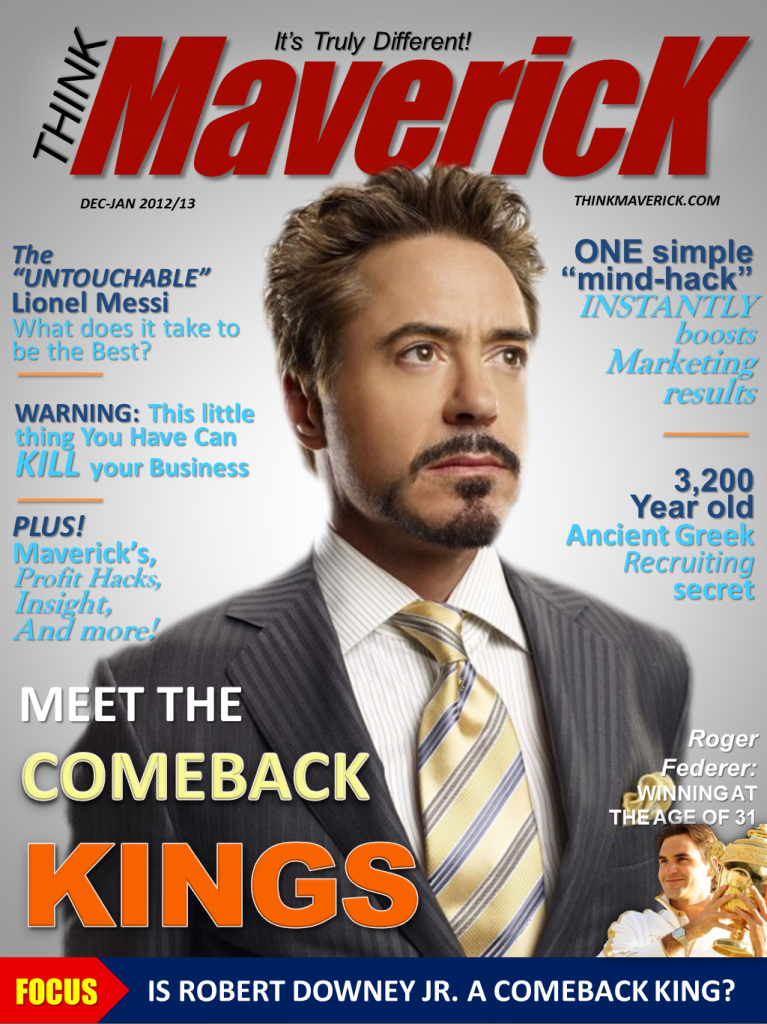 Think Maverick Mag Issue: Meet the Comeback Kings
=-=-=-=-=-=-=
Each characteristic provides a pathway to overcome "failure" and decide that the dream is more important than the current situation. Hundreds of other examples are well-known in business, film, music and sports. Individuals must choose to leave the past behind while learning everything possible from each experience.
If you have a story of bouncing back & growing through it, let others know they're not alone and gives them the opportunity to learn from your experience. Share it with us, by sharing, you're giving back and helping others navigate through challenging times. 
Let us know what happened?
How did you get through it and grow through it?
What did you learn?
What advice would you give others going through similar experiences?
If you want your story to be featured on our Magazine, send us an email at contact@thinkmaverick.com
You must know that in any moment a decision you make can change
the course of your life forever: the very next person stand behind
in line or sit next to on an airplane, the very next phone call
you make or receive, the very next movie you see or book you read
or page you turn could be the one single thing that causes the
floodgates to open, and all of the things that you've been waiting
for to fall into place."Tony Robbins