Are you a digital nomad? Does this conversation sound familiar to you?
| | | |
| --- | --- | --- |
| Me | : | I am Sabrina and a freelance writer. Just writing online for websites. |
| Friend | : | Oh, so you are a digital nomad? |
| Me | : | Yup. You can say that I am one. |
| Friend | : | Damn. Life must be awesome for you. Travel the world and work wherever you want. How's living the dream life? |
| Me | : | Actually… (Where should I begin?) |
I bet you must have gone through at least one similar conversation as the above being a digital nomad. Sometimes you just tell people "yeah, life is great!" because you just can't explain further.
There are just too many things to talk about. We aren't exactly expatriates but neither are we the average tourists. Some of us are earning OK and mostly not so great. The only spectrum that we all belong to is that we have caught the wanderlust bug.
Don't get me wrong.
I do love what I do and this is indeed my life goal. I used to be a fraud subject matter expert for a global financial institution. Now, I am a freelance writer and a Thai language student in Chiang Mai. You can say that I am a newbie Digital Nomad since I have only been one for 3 months.
(P/s: Chiang Mai is known as the global digital nomad hub. You will somehow bump into an entrepreneur every 5 minutes while walking on the streets)
But, I am here to debunk 10 of these fairytales and hell beliefs about our lifestyle. These are what I have frequently heard ever since I became a digital nomad:
Digital nomads must be rich
Oh… Really? I wish this is true for all digital nomads. Open 10 websites debunking myths on digital nomads and this would always be on the top of the list. Literally, always.
There are indeed some digital nomads who have made it. But, not every single one of us has made it to the top when we choose to be a digital nomad. Majority of us choose this lifestyle because we are super poor in our own home country or we are looking for new opportunities overseas.
As a Malaysian, living anywhere else other than Malaysia would cost me a lot more money. I was also bored of just sitting in Kuala Lumpur, sitting in a fancy office but still not earning enough to travel as much as I want.
So, I took the leap of faith. Rendered my resignation without thinking twice. Bad move. Not finding out more information on visas and then finding out that they are really expensive was rather disheartening. Again, another bad move. Clearly, that was my mistake.
When I moved to Thailand, I had almost zero savings as I travelled monthly on whatever money I had in my bank. I took a 50% salary cut on my last paycheck (took me by surprise), zero freelance jobs based on my niche and I fell into depression for a bit. Also, I am currently earning almost 5x lesser than my previous job and is pretty much stuck in Asia still.
Truth: Not all of us are financially rich. But, all of us love travelling and the freedom to do so above everything else.
This is another top of the list for every digital nomad myth debunking article. Free is actually pretty much the last thing on my list. I am always "on the go". I don't mean "on the go" as in going somewhere for an adventure or fun. I meant I am constantly doing something and most of the time, I am working or looking for gigs.
Being a freelancer means you will need to earn your hours or complete a project in a certain time frame especially for newbies like me. I am still relying on platforms like Upwork that takes 20% off my pay as service fees. Most freelancing jobs start at 5 USD an hour. Can you imagine having 20% cut from 5 USD? That means you are only earning 4 USD an hour. Working in McDonald's in the USA or Europe would easily earn you more than being a freelancer online.
If I want to go on actual holiday and still have some income, I will have to learn how to invest whatever money I have wisely. Or, I will have to work long hours to cover up for any loss of income.
Truth: Being free cost us money. A LOT OF MONEY. So, no, we are mostly spending 12 hours in front of our laptop screens trying hard to earn a living. At least before we become successful.
 You can work anywhere you want as long as there is Internet
Surprise! This statement is somewhat true. Yes, it is not an absolute truth.
I can work if there is a hi-speed internet. Bad internet impacts my working time horribly. If you have never been to SEA, you might find it surprising that internet here is still rather unreliable. Thus, if the place that I am living in does not have hi-speed internet, I will be out all the time looking for good internet.
Cafe hopping is really not the most effective way for us to spend our time. Co-working spaces are also not always the best choice as it could be crowded and expensive to rent on a daily basis. However, I do know many digital nomads who do this to have a change of environment. It does somehow make us feel happier when we can choose our workspace though it is not always a pleasant experience.
Truth: We don't just need internet, we need hi-speed internet that cannot be found on some random island, in the wilderness or up in the mountains of Nepal. 
You must be living the dream life!
This is one of my favourite statements. It is also a somewhat true statement.
Yes, I am living overseas and my Instagram is showing you the beautiful places that I have visited. Everything looks so amazing on my social media. Did you happen to catch me taking a sip of a mojito on the beach in Maldives last weekend? This weekend I will be in Jogjakarta to climb a volcano. Next week you will see a photo of me cruising in the mountains of Sapa, Vietnam which by the way, I took last month. Life is ridiculously great!
The story behind those crazily great shots is often not told on social media. There is this version of the story that I have been struggling to work as many hours to pay bills, visa, flights and stay. Did I mention that my uncle passed away and I didn't have enough money to fly home as my card was defrauded at the same time? The number of times that I had flight delays, miss a transit, faced immigration issues and was nearly scammed? I have lost track and just meditates when bad things happen these days.
If you consider all these risks but is not willing to go through it all, then this lifestyle is not meant for you. A digital nomad needs to be resilient and accept that this is the lifestyle we have chosen.
Truth: Digital nomads don't always live the dream. We work super hard to sustain this so-called dream life.
Digital nomads have lots of cool friends
I am not sure what do you mean by friends but I certainly do know a lot of people. I just don't consider everyone to be my friend. 
I know people across cultures, age, languages and background. But, there are only a handful of people that I consider them as my friends. Others are mostly hi bye friends or people I have met.
We may always seem to be surrounded by people but we can still feel really lonely. Every time we move to a new country, we make new friends and lose some old ones. Friendships come and go when you are constantly on the road. It's never going to be the same as being with your homies who you have shared so much history with.
Truth: We know a lot of people from travelling and learn a lot from our encounters. However, we don't consider everyone to be a friend.
Chuckles. Confession time…
I know almost nothing in depth about technology. I know how to use a laptop for writing, simple designs, watch Netflix, manage social media accounts and Google search. I know how to use my mobile phone to take photos, text, calls and play simple games while in transit.
If my laptop dies on me, I will panic. I will ask every single digital nomad group that I am in to help me figure out how I can get it fixed as soon as possible. There is no way I will be able to fix my own laptop or figure out what is wrong with it without help. There's a higher chance of me fixing a furniture perfectly well.
Just because I am a digital nomad that does not mean that I am big into the IT game. There are many other jobs that a digital nomad can do. Some of the most sought-after jobs would be a virtual assistant, writer, designer, social media manager and administrative works. 
Truth: Many of us have never ever worked in the IT line. Digital nomads are simply people who work remotely.
OMG, constant travelling is so fun!
I love travelling. Being a traveller is literally my goal in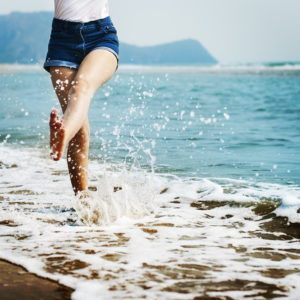 life.
However, to constantly be on the road and rushing for your rides can be exhausting.
Imagine the number of hours that I wait in airports for transits and long bumpy bus rides. Not to forget the packing and unpacking of pieces of luggage. Carrying all your belongings from one end of the street to another end. Hours and hours of research is done before you move but only to find out that it is futile. Some countries like Thailand constantly change their rules.
There are people who think it is fun initially. After trying it for themselves, they simply give up and realizes how tiring it is. At 3 months of my digital nomad life, I still find it rewarding.
Truth: It all depends on how much you love flying. For most, it is only super fun when you are doing short trips or planning for an annual leave.
Your career is going nowhere being a digital nomad
This is rather untrue. Though sometimes as a digital nomad I do wonder what is my career opportunities.
I came to the realization that as a digital nomad, I can choose to be where ever I want in my career. It is my full responsibility to make my career work out. In other words, I am my own decision maker. How?
Long story short, I choose who my clients are, negotiate my rates and decides if I want to attend any courses to further upskill myself. I can be who I want to be and at any time or day, I can choose to be someone or somewhere else.
Truth: It is the total freedom to build your own career. Just need to believe that everything is going to work out one way or another.
You are constantly on vacation
Sort of yes and sort of no. This is similar to saying that a digital nomad has lots of free time. 
We do stay in a foreign land but we are also working doubly hard to sustain our stay overseas. How do you define vacation in this instance? According to Merriam-Webster Dictionary, vacation means a period of exemption from work granted upon an employee; a period spent away from home or business for travel and recreation.
As a reminder, a digital nomad spends most of his/her time working on their laptops. Although we do have the benefit of working from almost anywhere with an internet, we don't really stop working. I mean we can but we will need to bear all the costs. We don't have the benefit of paid annual leave nor sick leave.
Truth: We can but we will need to pay the price for a true vacation so we barely ever take a real vacation.
Everywhere is home for you
Once everywhere is home for you then your real home bears almost no meaning. For some, a home may have never had a meaning.
But, someday when you decide to move back to where you are originally from, you will realize how things have changed. People changes as time go by too. For me, home is where my heart is. Currently, my home is still KL, Malacca and Johor. Yes, it is still Malaysia.
This though does not apply to everyone. For some digital nomads, they would agree with you where others might disagree. However, it is always a risk to all of us.
Truth: Not everywhere is as comfortable as home. So, not everywhere is your home.
Being a digital nomad is great but it is not without repercussions. It is a lifestyle that we choose and learn to accept its good and bad. If you are confident that you can make it all work out. Great, give yourself a chance to be a digital nomad.
Just remember that it is not always glamorous. Neither is it all happy and fun. 
If I was given the chance to go back in time, I will still choose to be a digital nomad. I will though choose to be a smarter digital nomad. Find out more information on the country that I am moving to, the visa requirements, save up more money and start investing to earn passive income.
I love being a digital nomad and have no regrets still.
Are you a digital nomad or planning to be a digital nomad? Let me know what are your thoughts on these myths. Share with me other comments or myths that you think should be debunked too!