Hey readers of Think Maverick,
If you're wondering if you can really become a highly-paid expert… Rich just released the recording of my "Becoming a Highly-Paid Expert" Teleseminar with Brendon Burchard and Mike Filsaime.
If you missed it, here's your chance to get the whole story.
Listen To Teleseminar Recording Here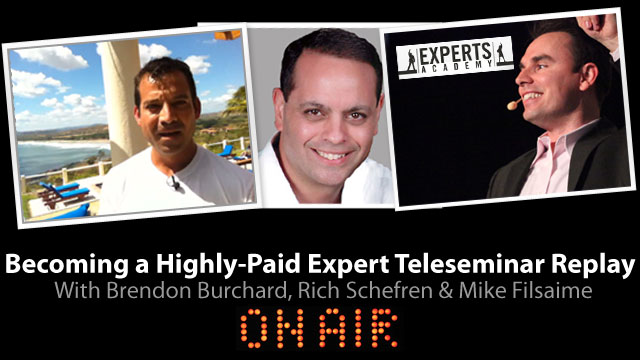 Audio clip: Adobe Flash Player (version 9 or above) is required to play this audio clip. Download the latest version here. You also need to have JavaScript enabled in your browser.


Listen in, and you'll find out what's driving the new generation of leaders. And how you can live the life of your dreams by becoming a highly-paid expert, while serving others.
You don't need more knowledge or more life experience to become an expert in your market, either. Because the fact is, everyone has to start somewhere. And now is a perfect time to become a market expert.
And if you're wondering if being an expert even works in a down economy… The truth is, in times like these, the expert industry actually GROWS.
Because people are looking for help and guidance more than ever before…
They're looking for an edge, new knowledge, new opportunities that will allow them to live the lives of their dreams. Down economy or not. And you can be the one to guide them. You can be one of the new generation of "thought leaders" that lead the charge to a new prosperity for everyone.
An expert, who steps up and shares your knowledge and experience, to help make other people's lives better. You'll hear exactly how, when you listen in on the recording we've just posted from today's revealing Teleseminar.
P.S. And remember, when you decide that you'd like to become a highly-paid expert, or take what you're already doing and make it a lot more profitable…
Be Sure to Watch the $15,000 Video Training Here
(Be sure to watch and jot down notes on this page, Unmissable!)