The other day, a really important document was brought to my attention – The 2012 Social Marketing and & New Media Predictions. If you haven't seen it yet, it is basically a white paper which gives insights and predictions on the directions that social and new media will be taking in 2012.
The paper was put together by the Awareness Group, a world leader in social media software and contains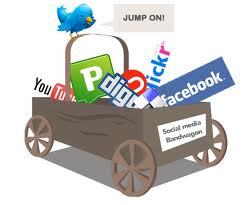 the thoughts and opinions of the world's leading marketing strategists, brand marketers and agencies such as David Meerman Scott, Steve Rubel and Marc Meyer of Ernst and Young.
You would already know that in social media as in other types of business, the leaders are those people who understand where the ball is headed, not just where the ball is now, so in this case, it's really important that take serious notice of the predictions the experts are giving us for the year ahead and to make it easier for you, I am going to summarise the important points in simple language.
So grab a cup of coffee, and read carefully.
'Social marketing will become marketing. It will just be what you need to do when you're trying to sell something to more than one person.' …………………….Michael Troiano (Holland Mark)
This is a quote taken from the paper and I think it pretty much summarises the direction in which social media is heading. But what specific changes will take place?
Well, one of the most important changes to take place will the integration of social media with more traditional types of marketing like PR and advertising. Brands will also have to change their PR mindset from capturing audiences through paid media to creating their own audiences through social channels. In other words, all companies will be media companies to some extent as content becomes the primary means by which brands communicate with their customers and the focus becomes creating a 'community' of readers. Greater use of video and mobile devices will be included as part of these changes.
This means that corporate websites will need to incorporate social media and provide a seamless experience as the user moves between the host site and the various social media channels. There will be a rise in social media marketing tools which will, as Marc Meyer says 'bundle marketing, monitoring and management into one dashboard in order to address multiple accounts and reduce multiple logins.
Other changes that will have an impact on the IT sector, will be the demand CRM systems that will allow for greater integration of social channels. As well as this, there will be a greater demand for metric tools which will help marketers to give brands specific measured feedback on their ROI, as well as a greater demand for mobile technology as mobile social takes a bigger and bigger share of the social media pie.
Many experts also predicted that Google + will become more prominent, as businesses realise the importance of participating in a social media site that is integrated with the search engine giant. Not to be left behind, Facebook will enter the search engine game and finally make use of all that data they have been accumulating about us over the years. (better get those fan pages up and running if you don't want to get left behind).
Another really interesting prediction is the rise of the 'Online Recommendation Culture' as communities develop trust amongst each other and even produce 'influencers' or opinion leaders.
Finally, one prediction that I found to be particulary positive (for me not for you) is that there will be a shortage of social media talent as more and more brands try to leverage social strategies.
So there you have it – the major recommendations for the year ahead. Of course, there is more to say but I'll have to save it for another post.
In the meantime, download my 21-point checklist to see whether your site measures up, register for the free webinar or download your free guide to Google+.
If you would like to know how my team and I can help you online, check out our services here: http://lindapaull.com/blog/work-with-linda/.
That's all for today
Don't forget to tweet, like or plus.
Cheers
Linda