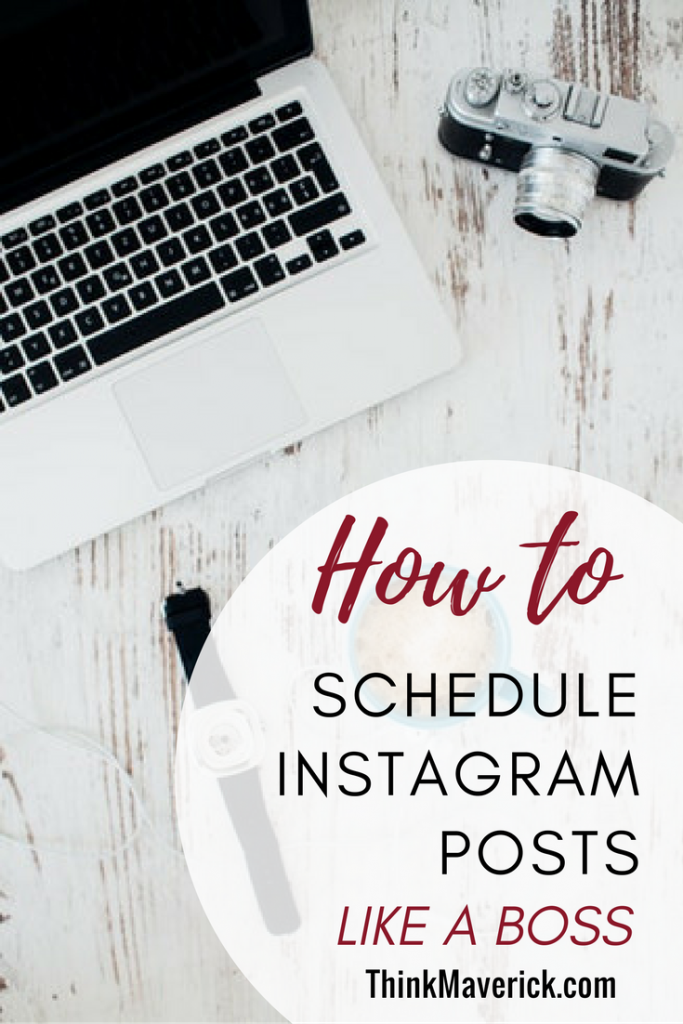 Want to build a better brand or business presence on Instagram?
Do you know that accounts that publish 7+posts a week get the most follower growth and engagement?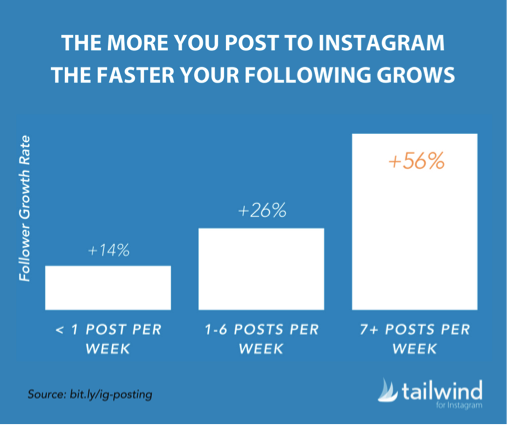 But the shocking news is that only 5% of Instagram accounts that actually do post at least once per day according to this study.
It's pretty easy to publish one or two posts daily. But it gets more challenging if you're managing more than 1 Instagram account. Plus you want to publish these posts at a specific time, write a well-thought description, share the high-quality photos, include well-researched hashtags etc. And don't forget, you have to do this every single day, consistently for a long period of time…
Wondering how other businesses are managing their posts effortlessly?
Using an app to schedule Instagram posts is the key.
Why schedule posts to Instagram?
1. It saves time
As simple as that, everyone knows that time is money. So it makes perfect sense to use a free Instagram Scheduler and save you time. You can allocate a time every week or month and schedule all the posts out.
Usually, I will dedicate a full day to preparing posts, writing captions and scheduling, so I don't have to think about it anymore.
2. You can upload Instagram Posts from Your Computer
With the use of a Scheduling tool, you aren't limited to sharing Instagram posts from your handphone or tablet anymore.
I edit most of my photos in Canva (Deskstop version) before have them live on Instagram. So this feature works like a charm for me. Now I can schedule photos from my computer, handphone or tablet –wherever and whenever, that I want.
Related posts: How to Create Instagram Stories Images for Business
3. You can plan a beautiful Instagram Feed
Scheduling your posts in advance allows you to have a better and bigger picture of how your Instagram feed really look like. You have the flexibility to play around with the order of your pictures and rearrange them to get a perfect feed. This will definitely help you in your Instagram Strategy.
4. You won't forget to post
As you read this post right now, I'm actually traveling in Thailand. I scheduled my Instagram Posts for a month before my trips. Why? Because I know that consistently posting is the key to keep your followers engaged. I don't have to worry that I miss a post, especially when I'm on the road.
Instagram's Terms of Service
Before you start using any Post Scheduler, it's important to know that Instagram has some strict rules about this third-party apps.
In fact, Instagram has many restrictions compared to other social networks. It only allows videos and photos. And the only place to share your links is in your bios!
But the trickiest part is that Instagram doesn't allow third-party apps to post directly to the platform.
Well, you might know some of the apps that allow you to automatically post to Instagram. But, you might risk your account of getting banned. Don't do that, it doesn't worth the risk.
To play it safe and achieve long-term success on Instagram, I would suggest you use those apps that are designed specifically to work within Instagram's terms of service.
Those scheduler apps are not fully automated. They only can help you in organizing, uploading and previewing your posts. You have to do the second part, by responding to a popup push notification and push the Share button manually.
There are many reliable Instagram Post Schedulers on the market, like agorapulse, Sprout social, autogrammar and Sendible. You can sign up their free-trial before you decide to commit to their paid packages.
Who wants to pay if there are free services and work just as well?
Yes, I'm using Later and Hootsuite for my post scheduling. Both of them are free to use with no time limit. They do have paid packages too. I will definitely consider upgrading to premium plan when it comes to the time when I have to manage more than two accounts. For the time being, they work very well in my marketing plan.
In this article, I'm going to show you how you can schedule your Instagram posts with this free tool Later. 
Let's get started.
6 Simple Steps to Schedule Instagram Posts with Later
Later is one of my favorite free social media scheduling tools for Instagram. It works with Pinterest, Facebook and Twitter too.
** For my Pinterest account, I use Tailwind to schedule posts, and I'll explain it in another post.
It allows you to schedule up to 30 posts per month. This works perfectly if you're posting once a day.
Sign up a premium plan if you want to schedule more than 30posts a month or sharing video on your Instagram.
Here's how it works.
1. Create an account
To get started, you need to create an account. After connecting to your Instagram account and authorize this Later app, you'll come to this page where you need to enter your details, choose your time zone and create a password.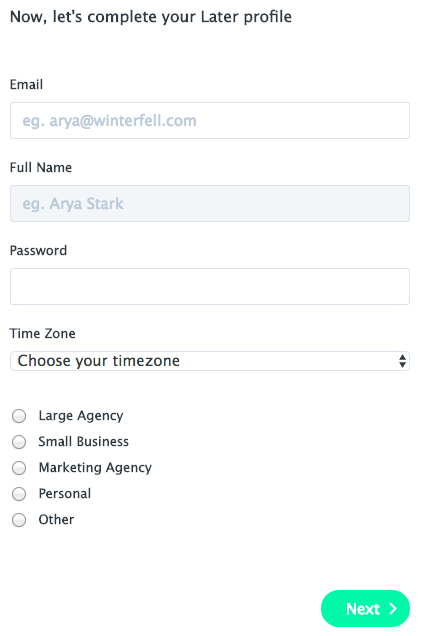 Click "Next", you'll come to the main dashboard page as shown in below: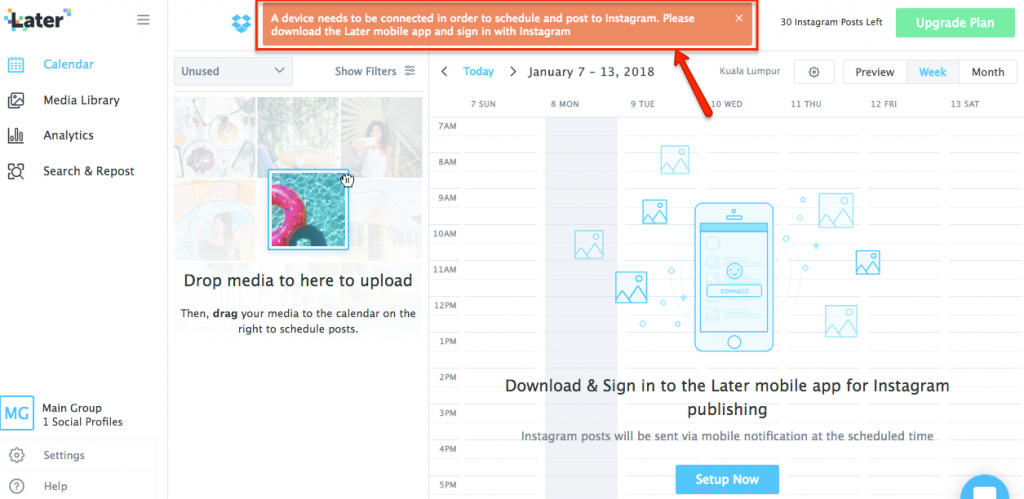 2. Download Later Mobile App
Next, you need to download and sign in to the Later mobile app with your Instagram account.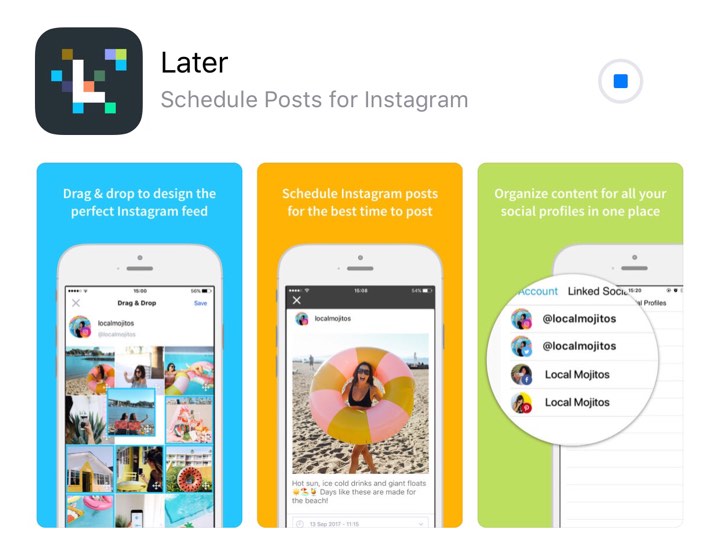 When you open Later mobile app for the first time, a message will popup to remind you that Later will not post automatically to your Instagram. You have to actually do the second part of Publishing the post to your Instagram. In order to avoid any violation, we have to do this extra step.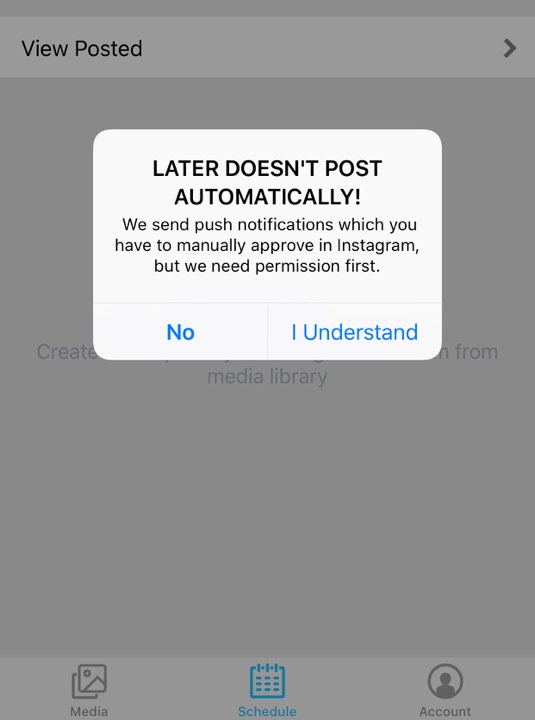 This is how your dashboard looks like after you've connected to the mobile app.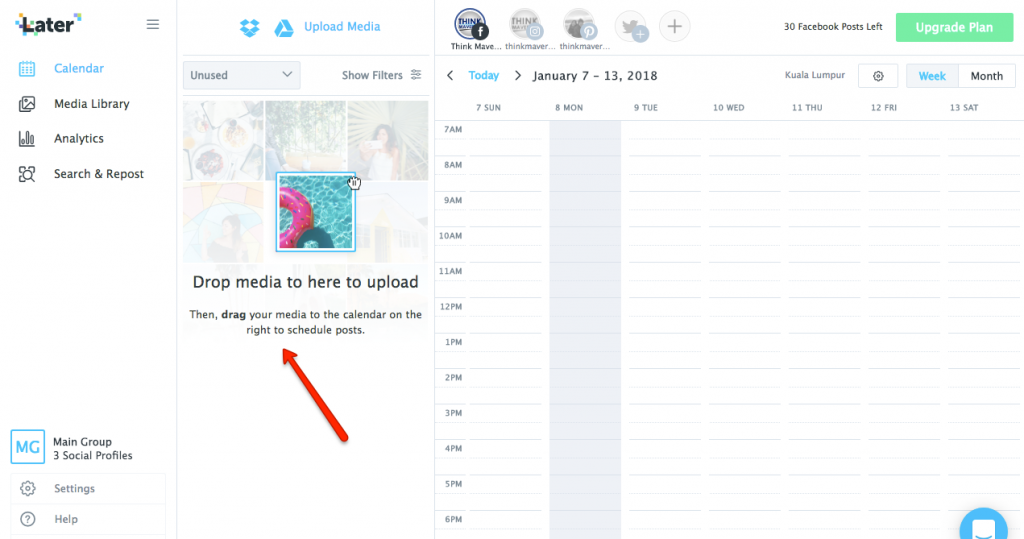 3. Upload and Organize your Images
To get started, upload images or drag images to the media library. You have the option to connect to Google Drive or Dropbox too.

What makes Later great as a scheduling tool is that it offers two simple ways for you to organize a lot of photos quickly.
First, you can access your contents instantly by selecting "Unused" to see contents that you haven't posted or your favorite contents by selecting "Starred".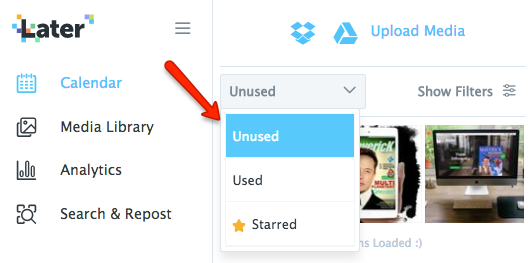 Second, if you have a lot of contents, then this labeling feature will save you lots of time. It allows you to categorize your contents into different titles.
To add a label, click on the selected image.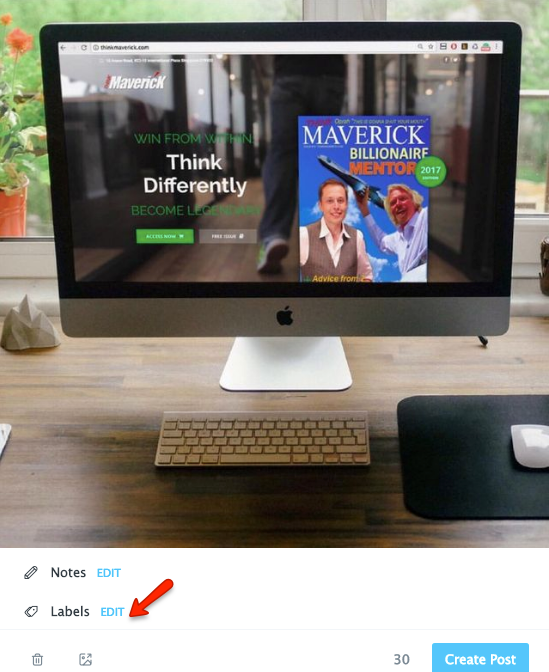 Click "Edit", and name your label.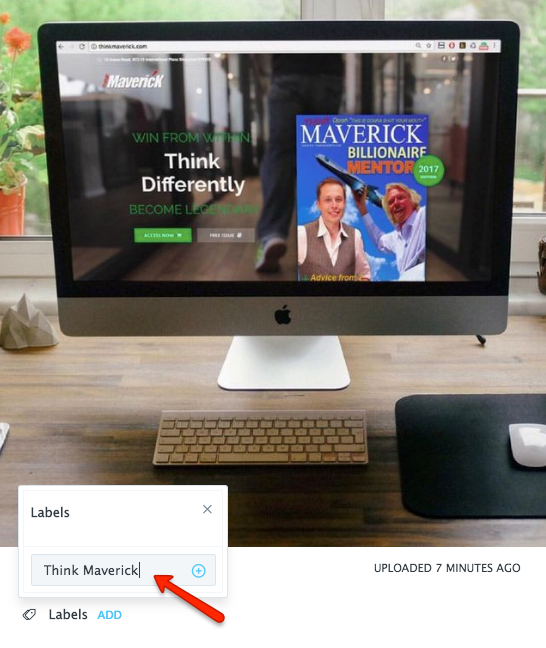 Go back to main dashboard and you can start filtering your images.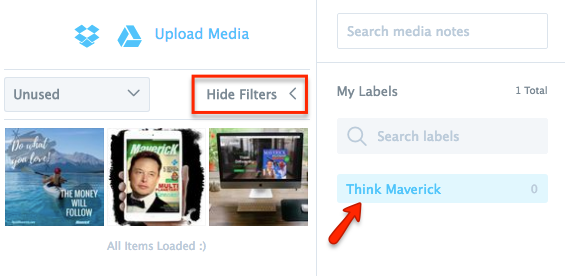 If you don't have a lot of contents in your media library, you can skip doing this step of labeling your photos.
But if you have over hundreds of images, it's worth spending some time to organize them. You can do a specific search in an instant, instead of wasting time scrolling through all the images.
4. Schedule a Post
There a few easy ways you can schedule a post.
First method is to click on the image.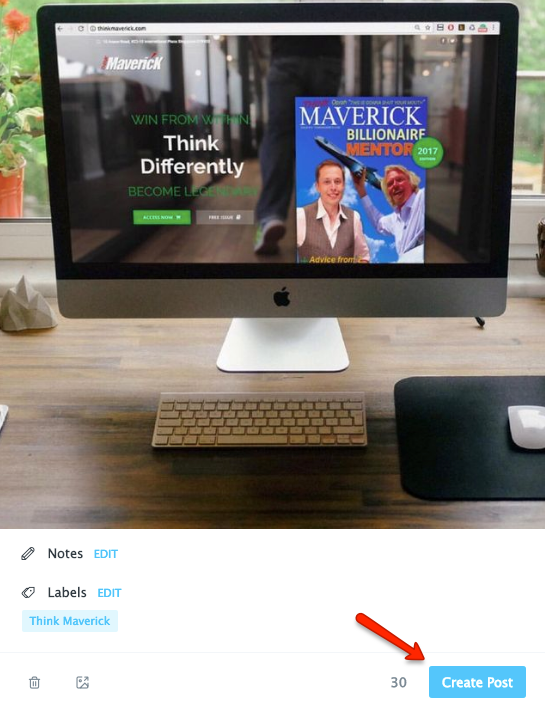 A post creation window will open. Next, you have the option to edit your crop or add a post caption.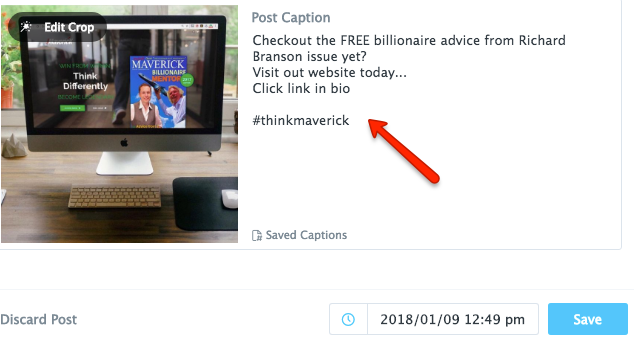 At the lower-left corner of the window, you can select the date and time you want to post.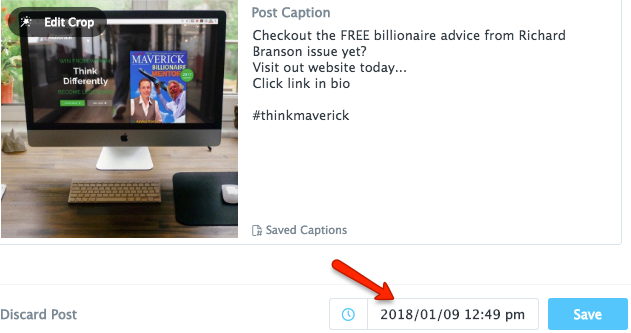 Done. Now you can see the scheduled post on your calendar.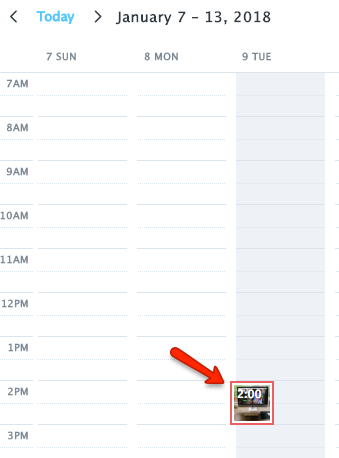 I like this second way of creating a post in Later. You can simply drag and drop any content from the media library into the calendar at the date and time slot that you want. It's so simple.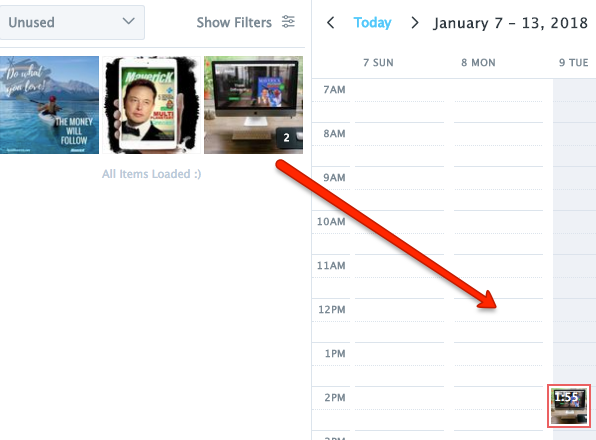 A pop up will open automatically, so you can write a caption to the post. You don't have to select the date and time. They are already added to the post.
Want to change the time and date? No problem, just simply hold on the image icon and move to the correct time slot.
5. Respond to a Push Notification
When it's the time to post your content, you will get a push notification on your phone.
What you have to do is open the notification. And you will be directed to the Later app.
Then, you see your scheduled post.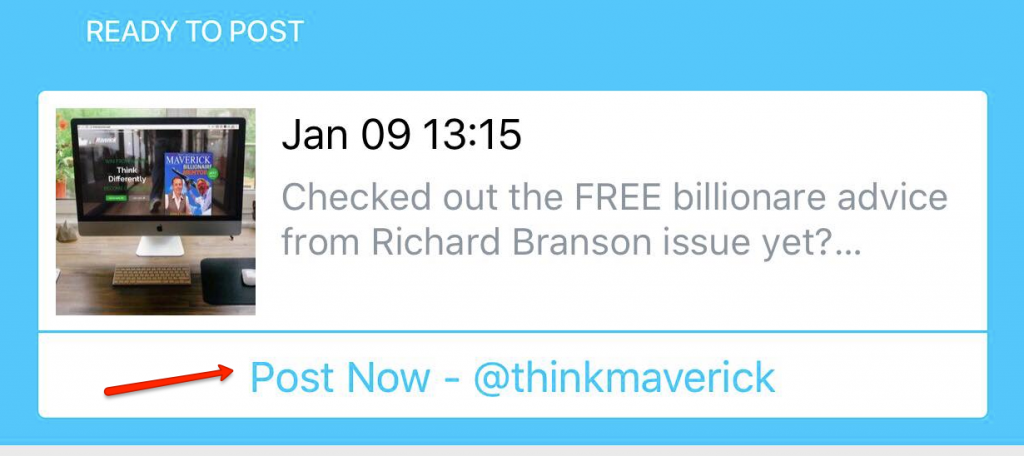 Click the "Post Now" > "Open in Instagram" button.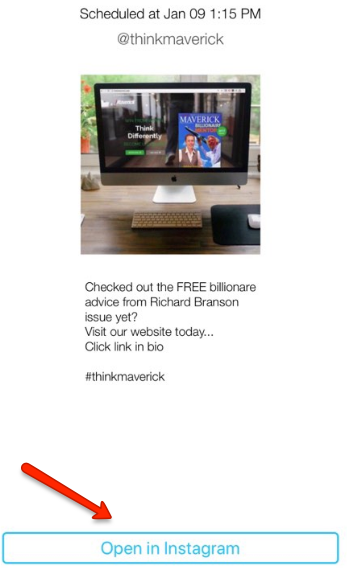 Since Later doesn't post directly to Instagram to post it manually.
6. Publish your Post
To publish a post to Instagram, click " Copy to Instagram", you might need to scroll to the right before you see this Instagram Logo.
*Remember login to the right Instagram account before opening your post.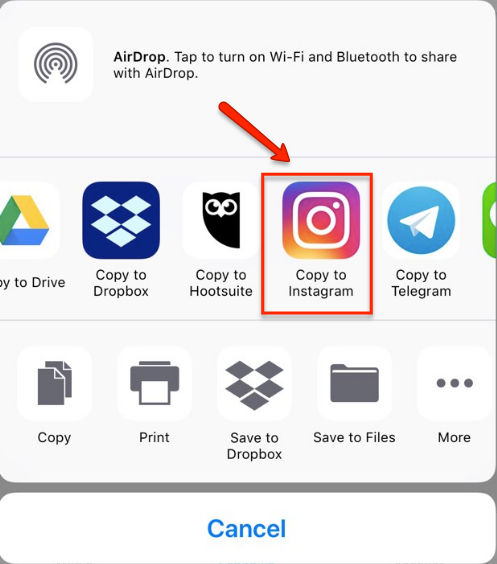 You will see your image has been copied to Instagram as a new post. There's a crop option as well.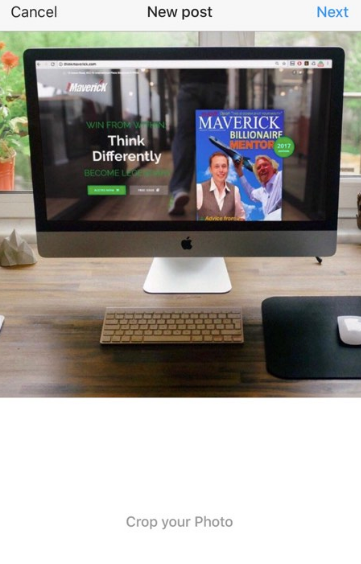 Click "Next" at the top right corner.
Click on the blank description space.
You just need to click the "Paste" option.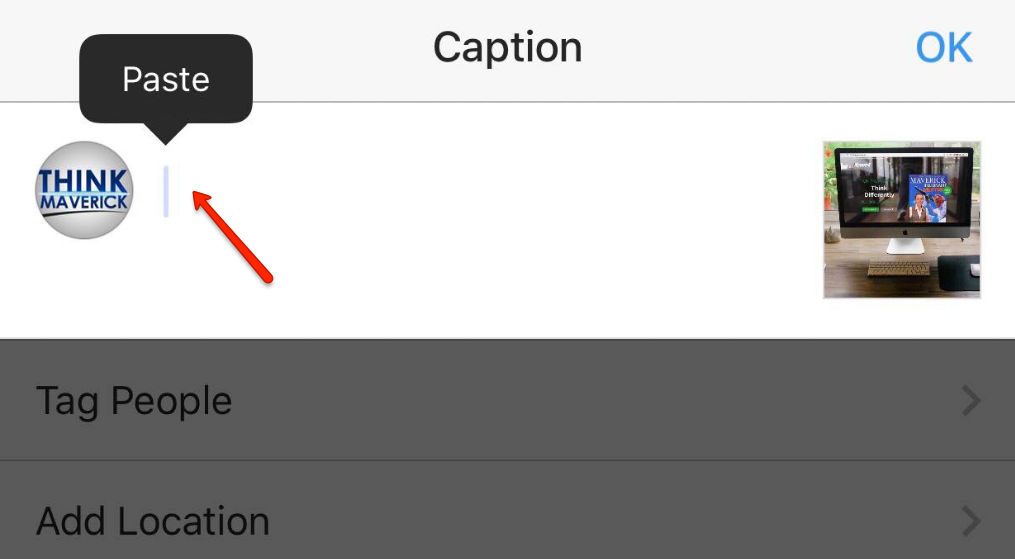 All your caption and hashtags will be added to the box.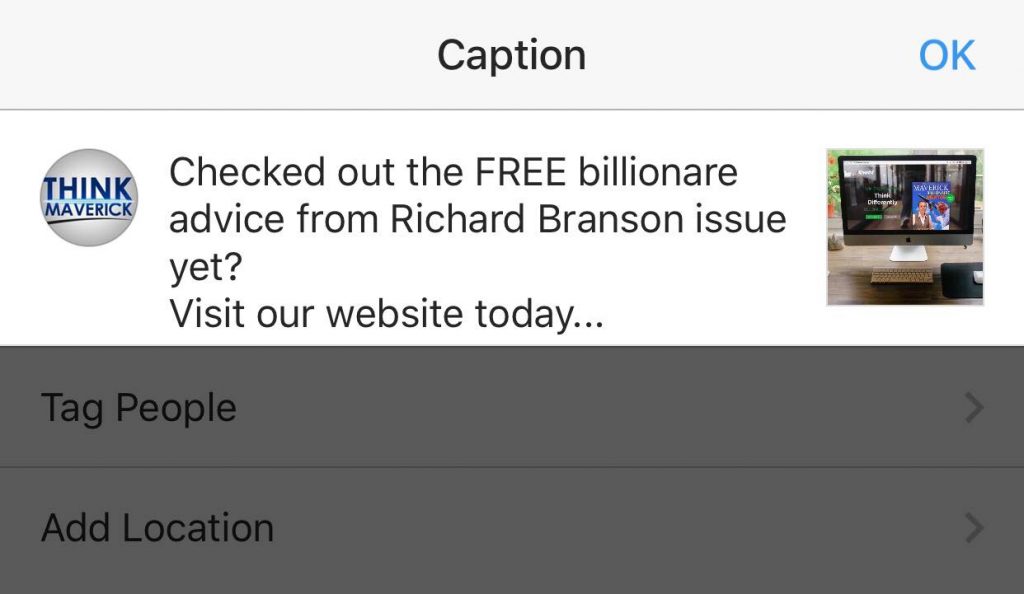 You can tag people or add location before you click " Share" button and your post is live.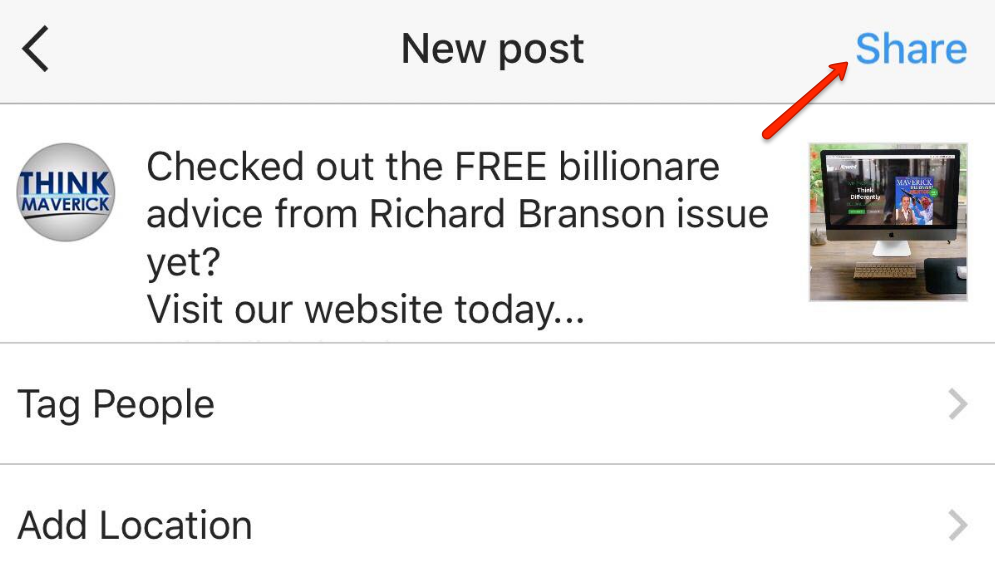 Free extra 10 posts on Later
Want to get an extra 10 posts on Later? Sign up now using this link.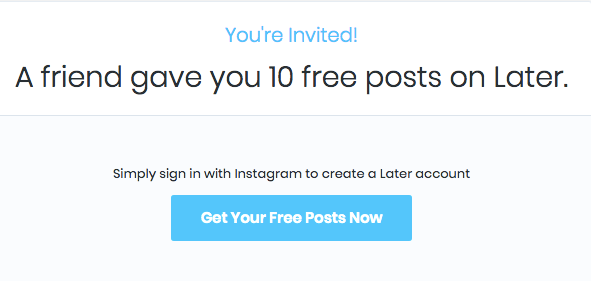 Conclusion
Maybe Instagram will allow automatic posting in the near future… But for now, to make full use of the platform, you'll have to play by their rules.
Start scheduling your posts and manually posting them during the best time to reach your followers.
Do you use any apps to schedule posts on Instagram? Do share with us your favorite tool in the comment below.
We post very frequently on instagram: https://www.instagram.com/thinkmaverick/