Description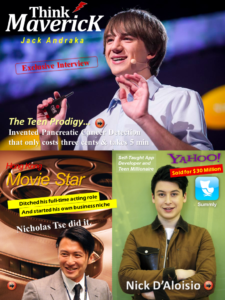 Exclusive Interview with Jack Andraka, t
he 16 year-old who invented a test to Beat Out Billion Dollar Pharmaceutical Companies in Cancer.
Also, included is the story behind Nick D'Aloisio who Sold his App to Yahoo! for $30 Million.
Plus, Interview with Paypal, Tesla Motors and SpaceX founder, Elon Musk. And Much More….
Download this Teen-Maverick Issue Now!