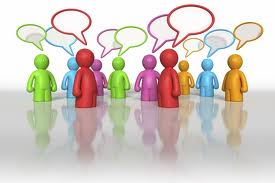 Social media is huge! So many people have dramatically increased their business and overall opportunities by establishing a strong social media presence. There's certainly more to having an online presence than social media, yet social media is a very big part of it and is the best place to start.
But many people who are just getting familiar with this medium are not quite sure how to approach it, and even many who are already familiar with the process are still missing some very important principles and lacking etiquette and social tact.
Key Principles of Human Relations
Certainly there are different elements and technical features of the online social world that are distinct from the offline social world, yet the basic principles of online human relations and social media etiquette is still very much the same as the offline the world  because we are still dealing with real people.
Fundamentals of human relations, such as being respectful and courteous, is the basis for social media etiquette. Entrepreneurs must be sure that whatever sales method they use is done on the premise of genuine respect for people in a way that is appropriate, tasteful and tactful.
As someone who places a high premium on good human relations, I am an entrepreneur who regards my relationships as sacred- and I would never do anything to violate or manipulate anyone into something that may not be in they're best interest.
Social Settings and Business Settings
The lines between business settings and social settings in today's world are less defined, but there are still distinctions. Most of us have various activities, some business oriented and some social.  Some of these business relationships may grow to be more  friend-based relationships and some friend-based relationships may move into a business alliance. So there are distinctions, yet the two do cross-over.
Generally, it's wise to differentiate your social activities from your business activities, but not to draw hard-lines because there can be some great things that happen when the two intermingle.
Initiation and Reciprocation

Another fundamental principle of human relations, which applies in social media, is initiation. Taking a genuine interest in people and recognizing who they are and what they're about goes a long way, so it's best when it goes beyond mere protocol.  Initiation can be intimidating for some of us, but as long as we are genuine and respectful, we should have little to worry about.
Reciprocation is the other side of initiation in which there is a reasonable response warranted. It perplexes me to see some people who post things all over the net and never respond to the comments people leave. Of course there are times when we can't always respond to every comment left at various sites, but it is certainly good practice to make it a point to keep a dialogue with those who take an interest in what we are doing.
Choosing Our Friends Wisely
There is a lot of trouble we can be spared just by choosing good friends and associates, as the right people can also be quite beneficial to our lives. A single connection can greatly alter the course of our life, for better or for worse, so we must not underestimate the impact our social setting has on our lives. Exercising discretion with the kind of company we keep is another fundamental and vital principle of human relations.
Making meaningful connections free of ulterior motives is the most effective way to network. There's nothing wrong with wishing for a mutually beneficial connection as long as we  remember the sanctity of relationships with well-founded respect for people,  so we do not objectify them.  Anti-social habits, of course, have no place in social networking as we need to be engaging and receptive for deeper connections. So productive networking is contingent on a willingness to be assertive and outgoing.
Just like in any social setting, there will always be certain people who offend certain other people. Confrontations should be kept discrete and not made into a spectacle. If someone is a continual problem, then we must do what is necessary to guard and protect ourselves, but the more we develop human relation skills and social media etiquette, the more equipped we will be to minimize and diffuse such tensions.
It All Begins and Ends With Good Human Relations
A good understanding and implementation of human relations has been the main theme of this message, while being the foundation of productive social interaction. There are many faucets of good human relations, but the bottom line is: whatever and however you do things, do it with genuine respect for people and you won't go wrong.
– Happy networking!
PS- learn …7 Steps to Building An Online Presence
Visit Scott Yonker's Personal website anytime at http://scottyonker.com/