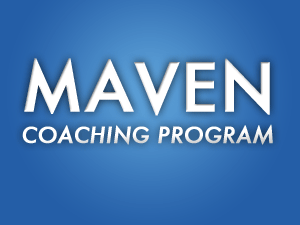 With the latest launch of Brenden Buchard's "My Experts Academy" Rich Schefren has featured his Maven Marketing Program 2.0 as his first bonus. And i was lucky enough to WINaccess to his $1,396.00 program simply by just winning a traffic generation contest.  I think the time has come for me to write an iron clad review and provide you with a much better understanding of why I (and many more) think it is truly the best Maven Coaching Program available and how it became an essential Strategic Advisor to my business Arsenal.
This is

Not

for

Opportunity Seekers

,

unless you are looking to change the outlook of your business thus far….
Maven Marketing 2.0

 Overview (Strategic / Tactical )
| | |
| --- | --- |
| Name | Maven Marketing 2.0 |
| Creator | Rich Schefren & Jay Abraham |
| Main Focus | Becoming a Maven in your niche |
| Price | $1,396.00 |
| Official Website | http://.strategicprofits.com/    |
| Discount | Non (6 month payment plan Avail) |
| Sneak Peek/Bonus | See below |
Maven Marketing 2.0 Members Area – What is it all about?
The Maven Marketing 2.0 Coaching Program you are about to experience is not a marketing "quick-fix" that brings you results for the next few months, or even the next year. The strategies, material, specific plans and personal advice you are about to receive from Rich and Jay will be with you for a lifetime.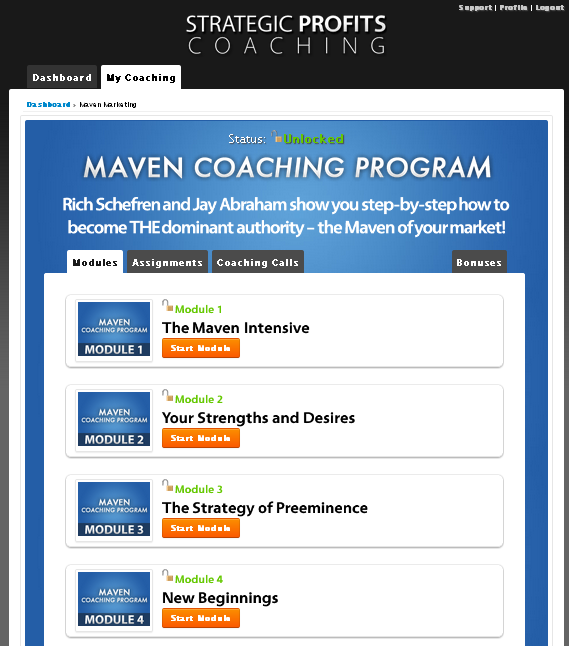 Module 1:
In this intro to the Maven marketing Coaching Program, you will meet Jay Abraham, as he sets the stage for what's to come in your maven Marketing Program. Including… Working on getting you mind in gear… Shifting your mindset… Understanding what possibility thinking is all about… and adopting jay's Strategy of Preeminence, the basis of the way he has operated during his entire business career.    This is all about getting clarity on your business, purpose, Vision and from getting from A-Z. Mediocrity to Greatness and from struggling to prosperity.  
Module 2:
Rich and Jay will take you through exercises that develop your force, strengths as a Maven, Including a discussion on critical thinking.    You will begin to lay the foundation of creating your maven force. Becoming excellent in everything you do. And getting the absolute highest usage of your time.  
Module 3:
In this module you will get a crash course on Jay Abraham's Strategy of Preeminence. And how adopting it will affect everything you do, how you relate to everyone in your business and your life…. forever.  
Module 4:
When you dive into Maven module 4, Rich take you down the path of your New Beginnings. Where you have massive impact on everyone you come into contact with. You'll see how adopting Jay Abraham's Strategy of Preeminence is reliant on you being about to reinvent yourself. To be a different person than you are now. And why change is in your best interest, and remaining the same will actually work against you.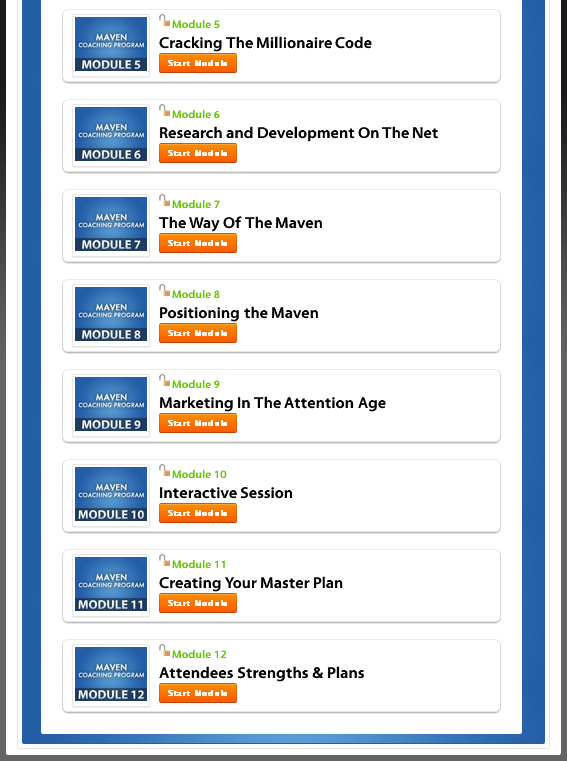 Module 5:
Jay Abraham will reveal the secrets to his success as he cracks the Millionaire code. The same strategies you will use as you move forward into becoming the dominant Maven of your market. And  build a high-performance business that prospers in any economy.  
Module 6:
Its time to take a look at using the internet for research and development in your business… from Russian immigrant, social media and business success phenomena; Gary Vaynerchuk. All by following his passion and his heart, by becoming the dominant Maven in his niche.   You'll learn his strategies for leveraging competitive intelligence and the best customer service to become the Maven in your market.  
Module 7
: Goes even deeper into the "Way of the Maven"  as Rich and Jay share their thoughts about being empathetic, respectful and aware of how others in your market feel, and see life. Which makes being a Maven, a leader in the market, much easier.  
Module 8:
Here, uncover strategies for positioning yourself as the Maven in your market, and the different methods of communication that will foster your positioning and Maven authority. including how to leverage sequential marketing… An intro to characterization that leads to your desired maven positioning… And how to monetize everything from this session.  
Module 9:
In module 9, Rich discusses how you can do what you love…. How you can build a real business…being wealthy and famous in your niche in the Attention Age by being an Authority figure … the maven of your market.  
Module 10:
This module is all about Q&A with the workshop attendees, about their businesses and how they position themselves as the Maven….  
Module 11:
Here starts the Maven master Plan, where you begin to put together a blueprint of becoming the master with the guidance of Rich and Jay. You will be doing exercises related to Character Building as classified by Strategic profits. All together, there will be 25 character positions which you can dictate how you resonate with your market and vice versa.  
Module 12:
Workshop attendees share their Maven strengths with Rich and Jay including questions on moving forward with the maven process.    
Click Below to Watch The 2-Part Webinar Series Hosted by Rich himself….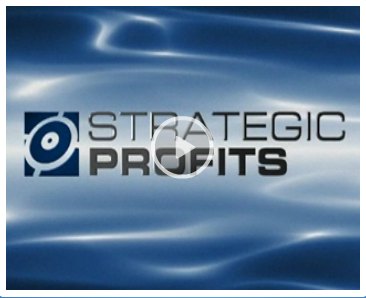 What To Expect From Maven Marketing 2.0…
  Imagine, if you will, how this lifetime will play out… after you experience the Maven Marketing effect of total business transformation… after the entire seven month coaching and mentoring call recordings that are a critical part of the Maven Marketing 2.0 Coaching Program…   You'll enjoy the luxury of having prospects and customers seek you out for your advice, recommendations and solutions when they have a problem. And you'll be charging more for those solutions than anyone in your market…In fact, the idea of competing based on price will never enter your mind again.You'll regularly get massive amounts of free publicity, attracting more free traffic to your website than you can handle… watching as your sales explode, your Maven status soars, and your
personal income skyrockets… You will be in the habit of picking and choosing your customers and clients so you only get the very best — a result of building trust with your prospects and customers after you've completed the Maven Marketing 2.0 Coaching Program…Creating new income streams from high-value products will be quick and easy for you as a market "Maven." All while being flooded with more referrals than you ever imagined possible…Occasionally you'll sit back and reflect about how easy, cheap and effective using Maven Marketing is for building wealth… having become the Maven in your market — the celebrity expert in your field!As you move into the spotlight, and stand out from the crowd, you'll continually command maximum attention and respect, which brings you even more prestige and wealth.Now what you've just imagined is not a dream…   
[MESSAGE]: Rich Schefren and Jay Abraham's Promise!!!
It's the reality you can expect from this point on. Because for the next seven months, Rich and I will enable you to become not just "famous" in your market… but loved and admired as well.What you've invested in here, very wisely I might add, is a lifetime training program for leaders, supreme influencers, and dominant market Mavens.Rich and I have made it our personal mission to transform you into a genuine, honest-to-God "Maven" in your industry.It's time to get to work, future Maven.**Here's How to Access the Maven Marketing 2.0 Coaching Program**
What Else is Inside the Maven Marketing 2.0?
Assignments
Consist of 6 Assignments with World Famous Instructors/Coaches like Brian Tracy, Fran Tarkenton, Steven Covey and many more.
Featured: In Assignment 3, Jay will lead you through an Incredible Breakthrough by tapping into the creative genius inside of you. Assignment 6 will totally BLOW YOUR MIND, with the Best Motivational Trainer in the House, Tony Robbins Interview Jay Abraham Himself to discuss about businesses of the 21st Century…… The rest you have to find out yourself HERE!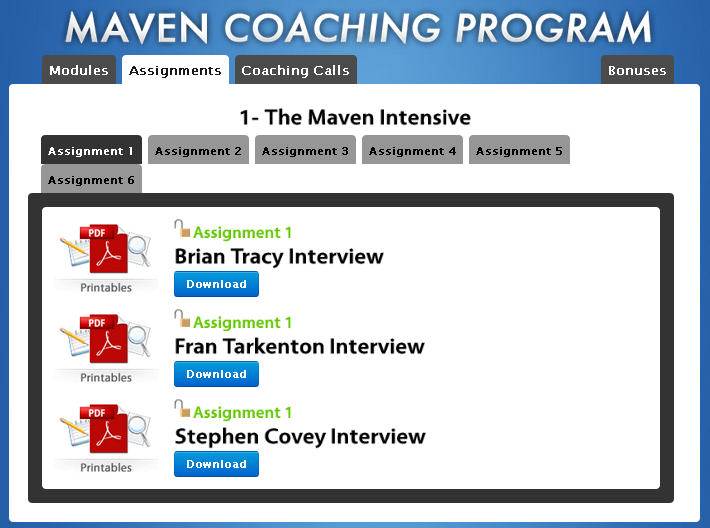 Coaching Calls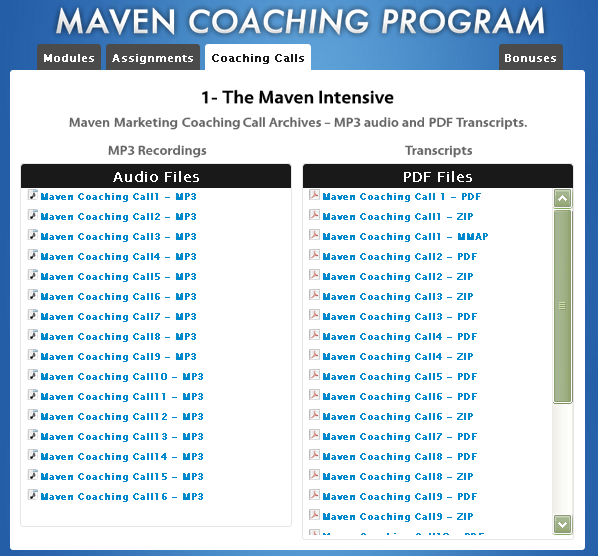 Bonuses
Featured: Jay's Premier "Business Brain Trust Event"
Renowned Mavens Involved:
Seth Godin, Stephen M.R. Covey, Chet Holmes, Fran Tarkenton, Larry Genkin, Michael Levin, Riva Lesonsky, Spike Humer, Brian Kurtz, Andy Miller, Donald Moine PhD, Mark Victor Hansen and Many many More……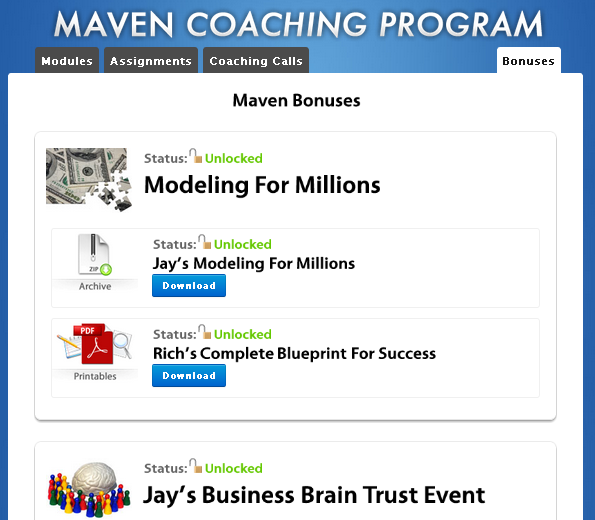 Is Maven Marketing Any Good?
Well, this is the main question i guess, in order to identify a good product from a Great Product by Rich ( Most of you know  Rich Likes to Over-deliver in his programs) we need to know two Fundamental things:
Are the presentations in the training modules of High Quality?
What is the track Record of these trainers/coaches/Gurus?
By answering these two questions, you will be able to decide whether the Maven Marketing 2.0 is worth your Time and Money. I will try to avoid comparing it with other programs available in the market because i believe that there are way too many variables involved that have not being accounted for (for comparison)  such as success rate/failure rate, the background of the attendees, various pricing versus promises,  program deliverability, course material and much more.
How Will I Determine Whether This is Just Another "GOOD'ol" Product?
I went through the course materials by selecting specific categories and presenters that interest me; from January 27th to February 2nd. So far the presenters have presented the course materials in a very informal way making it very easy to digest and to absorb.
I Checked the downloads and training material, and the entire course looks setup for at least a 7 month consistent training period. Meaning if you Productively spend at least 2 hours a day for the next 6 months, you will be able to go through the entire course materials. Expect to see a dramatic change in your business just by skimping through Maven Marketing 2.0. This program requires you to take a pragmatic approach towards learning so that you gradually develop a characteristic change in yourself before you channel it into your business.
 Experienced Presenters?  

(100% – Excellent )

Quality of presentation ?

(85% – Great )

Length of Videos ?

( Too Lengthy )

Topic Diversity ?

( 95% – Excellent )

Track Record of Mavens ?

( Great )

Members Area

( Simple layout, Easy Access, Easy Download )
Is Maven Marketing 2.0 for YOU?
YES. In fact, every business from offline to online should take up Maven Marketing 2.0. This program covers every aspect of your business, whether you have just started your business or your business is already a $10 Million business,
Where To Go From Here?
Be sure to click on the link below and comment if you have anything to add to this Maven Marketing 2.0 Review. Be prepared to get your Business Accelerating because with the MM 2.0 you will start to find clarity, vision and strength in your business and I hope you will remember to check my Maven Marketing 2.0 Review before you make any decision.
You can be sure I will be as honest as they come about the review and my recommendation which is something very few affiliates can say and more importantly, prove. In the mean time, you can signup for the free webinar by Rich Schefren which  he will be holding for our readers here at Think Maverick.
Thanks.
To Building Bigger, Smarter and More Intelligent Businesses ,