FEATURED OFFER
Get access to ThinkMaverick's Special Magazine Issue with Jeff Bezos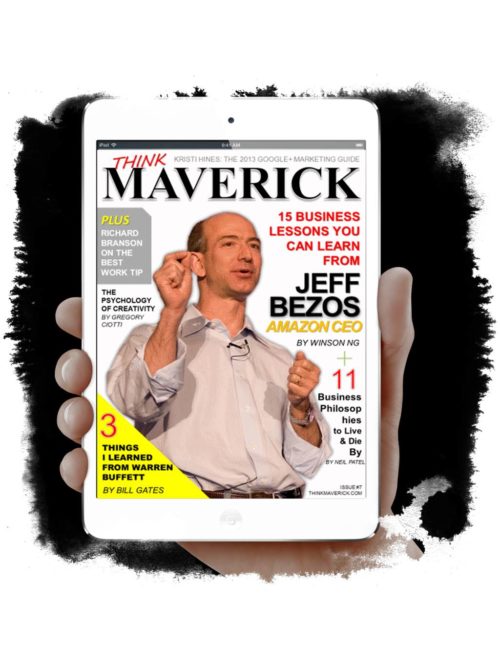 To receive the issue, input your email & Read Instantly!
In this Special issue of the ThinkMaverick Mag we feature the founder of the biggest online retailer on the planet Jeff Bezos'
So what does it take to create the world largest online retailer at the age of 49? amass a personal wealth of over $25.2 billion dollars and become the Top 30 Most Powerful people in the world? Lets ask Jeff Bezos'
He has also built a $100 Billion Empire based on books destroying local bookstores in the process. Most would say its awful. But to some, he is reshaping the entire industry.
Amazon is now one of the 100-largest companies in America. We'll share Bezos' amazing story and lessons from his life that Fortune and Forbes Did not tell you in Its Cover Story. This is something you could use instantly to apply it to your own business.
Jeff is one entrepreneur you will not want to miss, which is why he is the special Highlight of this month's issue.
Also in this issue
Bill Gates: Three things I've learned from Warren buffett
Richard Branson On the Best Work Tip…
Greg Ciotti on The Psychology of Creativity: This guy is a genius when it comes to peeling back the layers to the human mind.
11 Business Philosophies to Live and Die by: Neil Patel
Mark Sisson on Finding focus in a World of Distraction
The Google Plus Marketing Guide by the Master…
12 Unconventional Interview Questions Entrepreneurs Should Ask
The Justin Herald Story: How he started a business with just $50 in his pocket
Intense!

Hoebing, Australia
"Wow…this magazine is so packed full of content it will serve you for months to come. Every issue is top notch and the caliber of experts are just incredible. Do yourself a favour and check them out, you can get a trial subscription before making up your mind. Great job!!"
Was blown away!

Meron Bareket, Israel
"Wow, I just found this mag today, and it's FANTASTIC. Great stories and a very good balance of "young and promising" with "amazingly well known". Very inspiring, and I didn't even read the entire issue yet (88 pages!). Talk about value for money! Totally boosted up my energies for making something happen today.!"
Inspirational

Glenn Watt, Canada
"If you are not convinced to start your own company after reading ThinkMaverick, you never will!"
There's no risk, no obligation, and no credit card required.
Enter your Email and Read Instantly!