Are you going to waste this weekend or really do something important?
Instead of lazing around over this long weekend, if you've followed this FREE plan, you'll have your
first Kindle book outlined and maybe even DONE and ready for launch. Stick with me here…
A publishing revolution has quietly reached a tipping point in 2012, and the holiday season may once and for all kill the printed books for good. Let me explain…
Each year, the biggest device makers take advantage of the holiday season to expand their mobile market share. Apple launched the new iPad Mini,  Amazon launched a whole lineup of new Kindles, Google's got the Nexus 7, and so on…
So, which one of these tablets will come out on top in the new year? Self published authors are going bonkers over this, it is the Zeitgeist of 2012!
Ebook authors are going to be the new celebrities…
Think about it: All of those brand new tablets are blank slates, waiting to be loaded with media. Add untold millions in Amazon and iTunes gift cards and, well, the stage is set for an ebook buying frenzy…

The Kindle Revolution for Authors

As reported by the Digital Marketing Blog: In July, digital books outsold hardcover novels for the first time ever. And right here right now, we're poised to set all kinds of new records in digital book sales by the end of December.
In fact, if you've ever considered writing a book to promote yourself or your business, now is the perfect time…
That's because self-published authors are now getting incredible access to the biggest distribution channels online (which are some of the biggest channels, PERIOD).
Online booksellers like Amazon, Google, and Apple are working around the clock to stake out a controlling claim in the digital book marketplace (Amazon is way, way out in front, BTW).
But these traffic giants need your help to make it all happen; they need new titles to sell to their e-book hungry users. More titles means better selection, a better value proposition than their competitors, and more market share…
And of course, you could always use more access to Amazon's customers, right? How about Google's?
Amazon, iTunes, Google Play… all of these ecosystems have hundreds of millions of active users that can buy your book with just a couple of clicks. What's incredible is that you can put your books onto their shelves almost as easily.
Because these traffic behemoths need new titles to feed the ebook hungry masses, they've made it very easy for self-published authors to upload their original works, and they're willing to pay good money for it. Amazon, for instance, will let you keep 70% of your sales (traditional publishers pay first-time authors 8-10%).
[box_info]
[/box_info]
Aaron Patterson, author of Sweet Dreams, shares his experiences with KDP.
I worked construction for 11 years when I decided to write my first novel Sweet Dreams in 2008. I never imagined I would even finish, let alone have 'real' people read it! When I was done with the first draft, I began looking into how to publish. I soon realized that it was one-big-mess. I was one of the lucky ones, as I never have written a query letter or submitted to a publisher. I decided to start my own publishing house (StoneHouse Ink) instead. Most writers will look for an agent and try to get a big publisher but I did not want to spend years looking when I could do so much on my own. 
Starting my own publishing house was not a hard decision, and I knew that my worth as a writer, was not in gaining the approval of a publisher. As I researched Amazon and how to go about publishing a book I found the KDP program. It was really easy to use and I figured, "What the heck!." I did not even know what an eBook was but did not want to miss out on another way to sell my book.
Three years later, I now have 40 authors and over 60 titles, and I get to work with international bestsellers like Vincent Zandri, Les Edgerton, Melody Carlson, and many others. My own books, because of KDP and the services Amazon has to offer, have allowed me to go from, out of work and living on food stamps, to a full time income. Now that I am a full time writer, I must admit, I am a little spoiled. I don't think I could ever work a 'real' job ever again.

After publishing that first novel at the end of 2008, that first year I did not have much in sales. I found out about eBooks and began to market online through social media. My sales went from 12 downloads a month to 2,000-4,000 downloads a month in just one year! Today, with four titles to my name and a few short stories, this month I will move multiples of that number. This is HUGE, amazing and should I say it? EPIC! I know… and to top it off, the KDP Select program has helped to make our titles with StoneHouse Ink go crazy. We moved over 60,000 copies just a few months ago on one of our titles, The Lonely Mile by Allan Leverone.

I get asked all the time, "What is your secret?" Work. I look at my writing as a job. By educating myself I learned how to use social media and the other platforms Amazon has to offer, such asSearch Inside The Book, CreateSpace, Author Central, and KDP Select. All these tools helped to get me where I am today.

I am excited for the future and can't wait to see what Amazon rolls out next.

– Aaron Patterson
Start Writing this Weekend… it's now or never!
I'm pretty sure the only thing standing in your way is the writing, right? Well, you don't worry about that, because it was my first barrier too. You don't need to be a J.K. Rowling to write a book… it's much easier that you think.
Because the expectations for ebooks are far different than for hardcovers, they don't need to write a walloping 300 pages. They only need to be useful, experiential and informative content. You could even write one over this holiday weekend…
In fact, I've even Just written a book entitled "How to unleash the Kindle Publishing Platform in 12 ways to Catapult your Brand." I highly recommend you read it and get to work on your first book! Now is the time!
The new Kindle shipped out recently, and it's already a big competitor with iPad… Oh, and prices start at $199!
Can you guess what Amazon pays to have each Kindle manufactured?
HINT: It's a lot more than they sell them for.
I'll tell you why tomorrow. For now, grab your workbook here:
http://thinkmaverick.com/blackfriday
You'll get 3 more emails this weekend, each with 1-2 minute videos that walk you through the process, so be on the lookout.
P.S. Does anyone know how many millions
of dollars in eBook sales there were in 2011?
Go ahead and guess, I'll bet you're not even
close.
Rich people MAKE while poor people spend.
$989,832,832 worth. That's how many eBooks
were sold in 2011, and the estimate is that
sales will triple in 2012. That's $3 BILLION.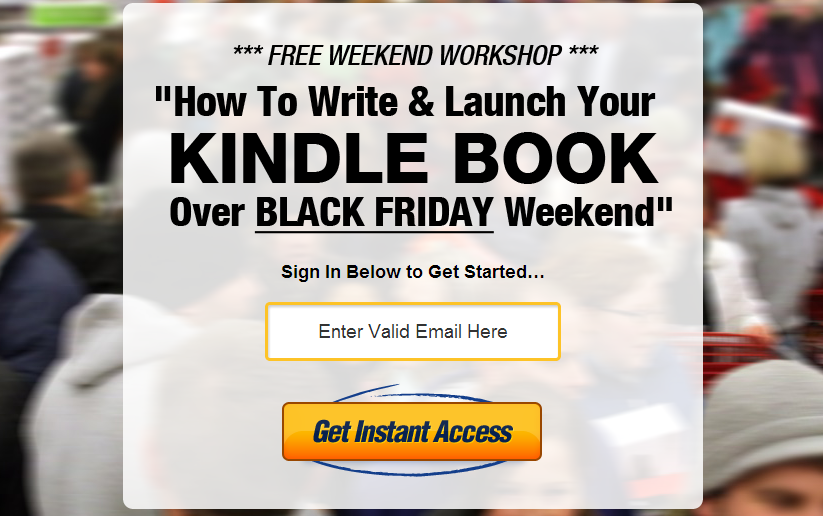 Get this workbook and bang out your first Kindle
book this weekend, even if it's only a 20-page
report.
Here is the FREE workbook: http://thinkmaverick.com/blackfriday
Got something to add? I'd love to hear your thoughts about digital publishing… Go leave me a comment!