If you realize, your Facebook business page is receiving way lesser reach since January 2015 as compared to your prior posts. And, if you are new in the game, you might realize that in the last one month, your reach is even lesser than before. Maybe you think that your social media marketing skills are not good enough. But, chances are because you did not keep up with the trend. 
As I mentioned before, I do lots of research every day of my life ever since I became a digital nomad. Social media marketing requires just as much research and work as SEO needs these days. In this digital era, things change quicker than I can change my clothes. Not even kidding. It is definitely not for those who expect an immediate return too. 
As a social media manager, I realized that if we simply lose focus and is not efficient enough, there is no way we can keep up with the trend. We probably aren't suitable to live in this digital world either. Sounds harsh? Well, that is the cold hard truth about social media marketing.
Some other important facts that we need to be aware of is that social media marketing is meant for people. It is called social media for a reason – be social. If all you do is to sell your products or services on your social media account, you are bound to FAIL.
Let's face it.
Facebook basically owns the top 4 apps in both App Store and Play Store. These 4 apps would be Facebook, Facebook Messenger, Whatsapp and Instagram. I bet you would have 3 out of 4 of these apps. I have all 4 on my phone. They are part of my everyday life even before I became a social media manager.
One thing that you will need to keep in mind is that your business may not be suitable for all social media platforms. You will need to pick what is the best social media platform based on your niche.
How do you know if you should be marketing your product/services through which platforms?
"If you want to be successful, find someone who has achieved the results you want and copy what they do and you'll achieve the same results." – Tony Robbins
Yup, it is almost as simple as this quote by Tony Robbins. If you don't see a successful similar product/service on the social media platform then maybe you should not be on it. There must be a reason why a successful brand is not on a certain social media platform. However, almost all brands can be found on Facebook at least.
If you still want to be on that very same platform that everyone else in your niche has ignored, you will need more than just an excellent strategy. Not having a comprehensive strategy, clear understanding and reasonable expectation can make your social media marketing efforts a waste of time.

Facebook
Now, as mentioned, Facebook is one place you can find almost all major brands on. It is so big that it is impossible to ignore. Most of your audience will either be here. Next would be YouTube and/or Instagram (which again, owns by Facebook Inc.).
Here are some statistics that would help you understand Facebook better and how its social media marketing strategy should be. All statistics were extracted from Zephoria Digital Marketing:
2.07 billion monthly active users worldwide by September 30, 2017; 16% increase in monthly active users per year. 

Almost 10 million Likes and Shares are viewed on websites daily.

42% of marketers report that Facebook is critical or important to their business. 
Do you know how many percents of internet users are on Facebook? That would be approximate to 53.33% of people. This is where you want to start your social media marketing strategy. It will be your loss. Remember to follow Facebook Business on Facebook to read the tips that they frequently post.
The below chart also shows that Asia is the largest percent internet users while North America stands at #4. Explains why Ali Baba is doing so well these days.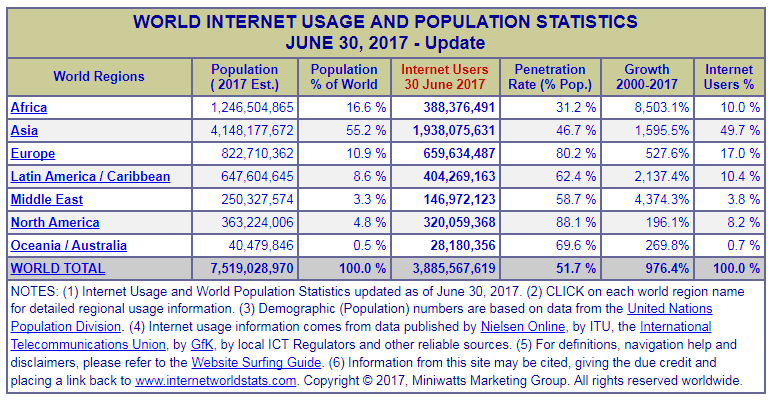 1.15 billion mobile daily active users by December 2016; an increase of 23% over the year.
If you look at how we operate today, you will realize that we spend most of our time on our mobile phones rather than our laptops or desktops anymore. You will need to make your site and page mobile friendly. 
In my previous post, I have also stated that Google has launched its SEO crawler to penalise sites that are not mobile friendly. Facebook is doing the same too.
Mobile advertising revenue represents approximately 88% of advertising revenue for Q3 2017
Kindly refer to the above point. This point also says a lot about using ads. Does facebook sound like an advertising company more than a social media company? Maybe. That means business owners will no longer be able to reach their audiences organically. They earn from Ads just like every other website that has a wide reach of audience.
To avoid being called an advertising company, Facebook has made things extremely difficult for anyone to advertise too. Gone are the days that any paid advertisement can go on Facebook. If your ad is not personal enough or useful, Facebook still rejects your request to pay for an ad. Nope, not kidding.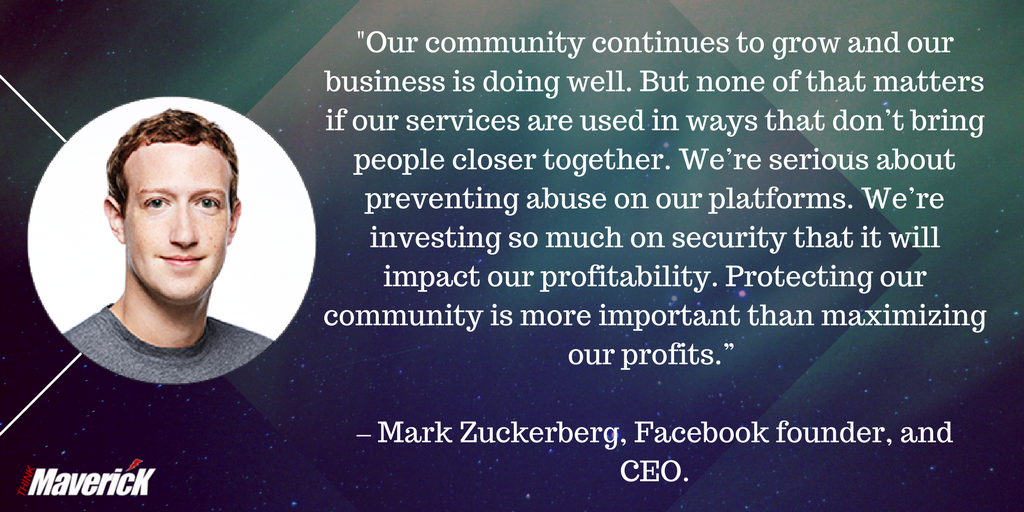 1.37 billion people log onto Facebook on a daily average basis
What does this mean other than you need to immediately use Facebook for your social media marketing? Nothing. Just get your business on Facebook now. In the meantime, I would highly suggest that you consider using ads or hire some social media influencer to sell your page. 
Users trust social media influencers more than advertisements. Look for someone who is relevant to your product/service and offer them a free trial in return for posts on their Facebook and Instagram. You will need to negotiate your prices with them. Chances are your conversion rate would be higher than publishing an ad.
1/5 page views in the USA occurs on Facebook. 
Just in case you did not, Facebook and Google are banned in China. It was really difficult to go on Facebook even with multiple VPN apps installed on my phone. So, yes, in the meantime, USA is still leading these numbers. It will definitely change if Facebook is ever allowed in China legally.
Don't worry about the ban though because Facebook is on it. Facebook is indeed seeking to penetrate into China. According to New York Times, Facebook is currently seeking an office in Shanghai.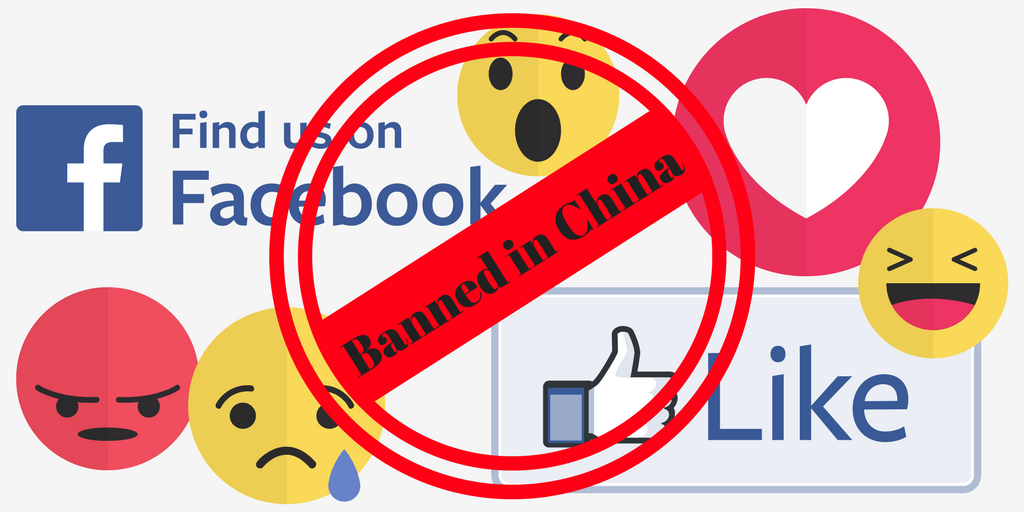 1 to 3 pm is the best time to post your content
On Thursdays and Fridays, engagement is 18% higher
Generally, that's the highest engagement time on Facebook. This 2 hours period would most probably be referring to where your target audience is located.
For example, if you are based in Singapore but your followers are based in the USA, you should be posting at 1-3pm PST or US time. If you are not awake at those time, that is fine. There are scheduling tools integrated into Facebook page management. There are also 3rd parties social media management tools such as HootSuite and SocialOomph.
It is also advisable to post more on Thursdays and Fridays.However, please also understand that if you post anything that simply sells your product or services, you will not receive much reach. 20% of your own services or products and 80% things that are related to your niche but is extremely helpful for your followers. Try not to post irrelevant posts. Your followers liked your page for a very good specific reason.
4.75 billion pieces of content shared daily as of May 2013 which is a 94 percent increase from August 2012.

 

Every 60 seconds on Facebook: 510,000 comments are posted, 293,000 statuses are updated, and 136,000 photos are uploaded.
There are heaps of information on Facebook every day. So, if you want to keep up and reach out to your audience, you will need heaps of information too. This is an actual rat race. If you are putting your business online, your competitors are doing the same. 
Always aim to provide your customers and followers with the best information you can. Keep track of the information you post and make sure that they are updated. I can't highlight this part any further. Think this way – you won't like reading old information so do not feed your followers old information too. That is the golden rule of life.
If you receive a negative feedback, don't ignore it or block it from your page. That is probably one of the biggest mistakes some business owners/marketers make. You have no idea how much brand damage you are doing when you do not resolve any negative feedbacks. Users can rate your business really poorly and spread your irresponsibility everywhere. Negative news goes a long way in damaging a brand.
Be very careful with how you respond to issues. Your job is to ensure that your followers will return and even spread the good word for you.
Facebook is the place for you to start your business online.
There is almost no way to deny that Facebook is leading all other social media platforms. If your business still does not have a Facebook page, you need to get it done right away. I know for a fact that if I look at a company, I will always do a background check. Users these days are information savvy and knows how to protect themselves from any possible scams.

To receive more updates about Think Maverick, please follow us on Facebook. Click here to reach our Facebook page directly.