21 Proven ways to earn Amazon Gift Cards every month (#19 Is my Favorite)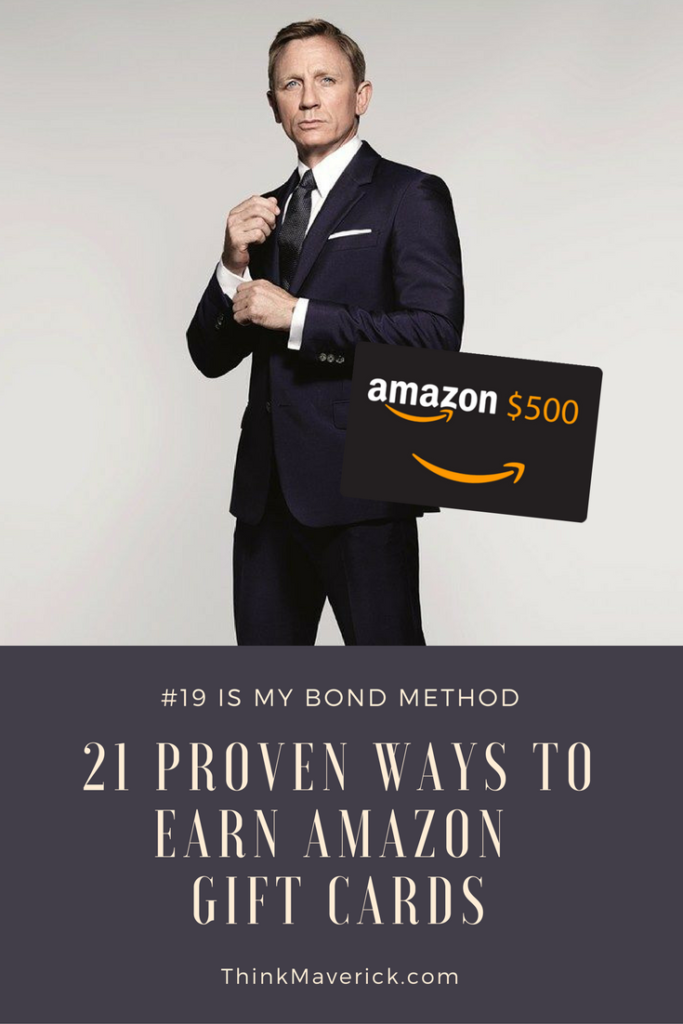 Here's what I found online to be the Best ways to earn Amazon Gift cards.
There are a variety of ways you can do that with a few simple clicks of the button. You can use the additional credits to purchase some extra goodies for Christmas or for birthday gifts.
This is not something that you can get rich quickly but it does help you to save a few hundred dollars extra every single month.
If you're a Gamer, #10 is just for you.
What's more #19 is how I use to earn $10 – 100+ per month on autopilot.
After learning this strategy, I promise you won't regret a thing.
The only downside is that some of these other avenues require your dedication and time to do it.
Some are also strictly for US citizens only.
In order to earn more, it is advisable to sign up for as many of them as possible, that way you end up having the best chance to earn and score more.
Related posts: How I Earn 6-figures online using this boring strategy
If you're curious then let's dive into the 21 ways you can take advantage of one of the World's largest Online Retailer on the planet.
How to earn Amazon gift cards:
1. Earn using Swagbucks – A Paradise for Free rewards
Swagbucks is a website that pays you to take on simple tasks such as watching a video online, shopping, taking surveys and more.
However, you will find yourself staring at a blank page pretty quickly if you're living outside the US. They're strictly looking for US and Canadian shoppers.
If you're willing to put in a little more time, you can earn about $25 – $50/month with 5 active referrals.
When you complete a task, you are rewarded with what is called 'Swag bucks'. These are simply points that you earn after taking on a given task, like shopping or searching.
Once you have earned this points, you can trade them in for a number of options including electronics, cash and of course Amazon Gift Cards.
This is one of the best and easiest GPT websites to start with if you are a newbie. (Tip: Get active referrals to pile up points)
2. Amazon Trade-in
Amazon is not just the largest online retailer in the American continent, it is an economic and financial ecosystem.
They would love to take all your old stuff and clutter and turn them into gift cards for you to continue to spend with the.
And that is why they created this Global Trade-in program.
With this program, you can trade most of eligible items on Amazon for Amazon Gift Cards.
However, they prefer electronic gadgets and media more than anything else. This can be your old video games, electronics, textbooks and many more.
Unless you're a hoarder, you might very well be eager to offload some of your old items and turn them into Gift cards.
3. Inbox Dollars
This is another website that offers a variety of ways to make money. You can easily cash in by just watching videos online, watching TV, taking surveys and even surfing the web.
It's one of those websites where you don't really need any complicated skills in order to start.
Like I said earlier, some of the ways listed here are very easy and this is one of the easiest since you only need the ordinary computer knowledge.
Contrary to Swagbucks, here you'll earn real cash and not points. You can choose to either withdraw the cash or earn Amazon Gift Cards.
You may get a $5 bonus just for joining.
4. Try Amazon Mechanical Turk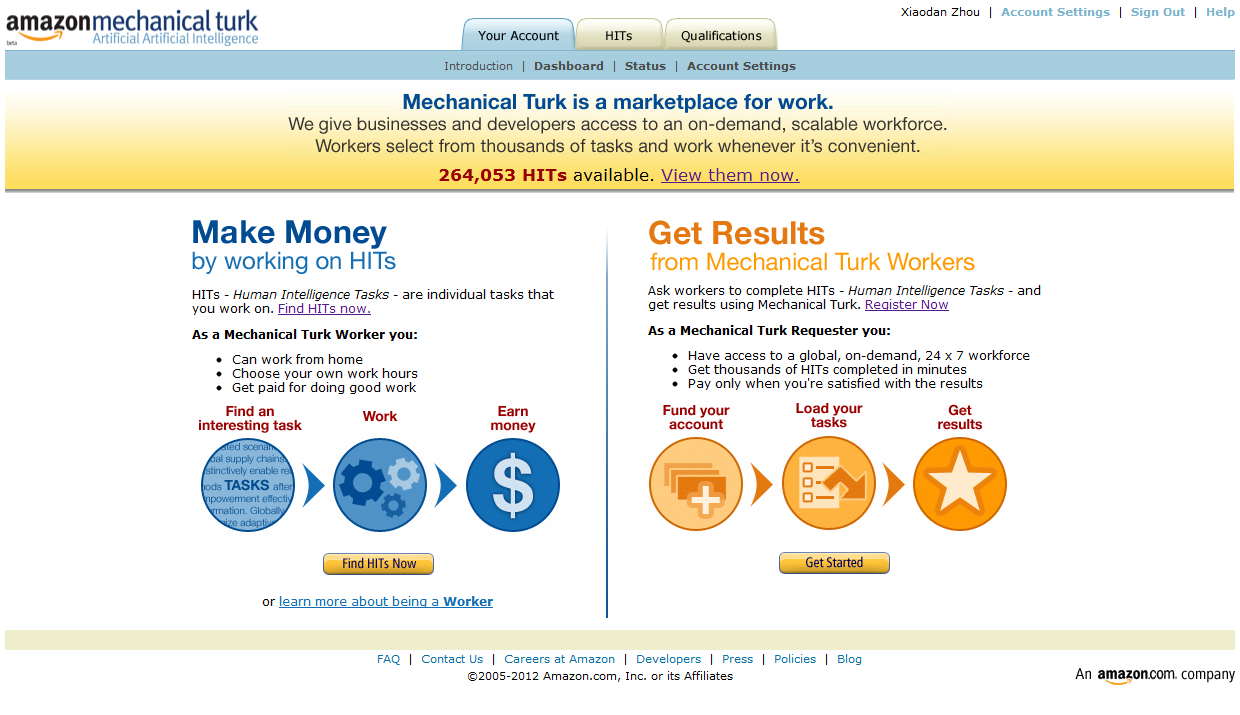 Also known as mturk, this is an affiliate of the Amazon company. It is a website where you are paid to take on simple micro jobs.
In this website, you can cash out once you reach a threshold of $1, which is quite fair given that most of us get motivated even more when we receive our rewards early enough.
The earnings are either sent to your bank account or you could choose to move the cash to your Amazon Gift Card balance.
Mike Naab was able to do this in his free time and earn an extra $150-300 per week.
5. American Consumer Opinion Panel
In this survey website, you basically give the manufacturers your views concerning a given product. You'll get paid to answer a few questions concerning those products.
It is one of the best online survey companies and I would really recommend that you check it out. The payment is primarily via check or your Paypal account, but you can choose to receive Amazon Gift Cards instead.
6. Submit and earn with Ibotta
Ibotta is a mobile app that enables you to get cash back from your purchases. All you have to do is create an Ibotta account, conduct your purchases in any of the 230 stores (Walmart, Target, CVS, etc.) as you normally would then submit a proof of purchase.
The proof of purchase is normally a receipt that you'll need to upload to Ibotta after which you'll earn your cash. You'll have to shop at an eligible store in order to earn your reward.
Once you've completed your task, you can cash out your reward either in form of real cash via your Paypal account or Amazon Gift Cards.
7. Harris Poll Online
This is one of the oldest and most prestigious polling sites in the world.
Like most of the sites we have seen already, Harris Poll Online helps you earn points whenever you are directed to a survey.
You can choose to redeem the points for Amazon Gift Cards or better yet a cup of coffee from Starbucks or credits for iTunes.
8. Earn with Opinion Outpost
This is product testing website where you test a product and later give out your opinion on how good or bad the product is. Manufacturers pay for such services so that they can see where to improve in their manufacturing process.
After completing your product test, you will receive cash rewards or earn Amazon Gift Cards.
They are also claiming to be giving out quarterly prize draws of $10,000 simply by participating.
9. Complete tasks with MyPoints
This has been around for a very long time.
The cashback shopping gets even easier with MyPoints.
There are tons of surveys which gives you points to earn.
You earn points whenever you take any surveys and once you hit the threshold, you can redeem for a gift card of your choice including an Amazon Gift Card.
10. TokenFire Rewards – Play, Earn and Get Rewarded
This is an amazing android app that can help you earn a lot if you're a casual gamer. It is pretty easy to install and even easier to use.
Their reward system is known to be absolutely amazing.
You get TOKENS for every bit of action you take (Installing, watching ads, and 15 tokens/day just for launching the app.)
A $25 gift card from amazon takes about 5500 tokens.
You reach that number simply by inviting your friends and family to join you. You get more tokens that way.
Other apps takes roughly 10X more time to reach that kind of numbers.
You can easily get $5 every couple of days.
To sign up, go to the Google play store, Download it and start earning now.
11. Product Report Card
This is another survey website where you just need to create an account and within the next 24 hours you will receive a survey via email.
Once you reach the $25 threshold, you will be able to receive your payout. You can choose to either get paid in cash or in gift codes which you will later redeem for products.
12. Prize Rebel – Voted #1 Paid Survey Site on the Web
This site was created since 2007 and has a community of over 7 million members.
Prize Rebel has since rewarded its users with over $14,000,000 in cash and rewards and is still growing. If you have not yet earned an Amazon Gift Card, you can try it here.
13. Survey Junkie
Surveys are among the easiest tasks you can find on the web that can simply offer you a chance to earn some pocket cash simply by answering questions.
Survey junkie has a minimum payout of $10, and is primarily paid via Paypal but you can decide to earn Amazon Gift Cards from it as well.
14. Coinstar
Turn your dirty coins into cash vouchers (11.9% fee applies), eGift cards or simply donate to charity.
If you are not interested in surveys, you can trade-in your coins at Coinstar and still earn Amazon Gift Cards. Coinstar has partnered with Amazon.com which makes it even more convenient for you.
15. Ipsos – A Research company that pays for your opinion
Create an account at Ipsos and receive surveys which will earn you cash. Ipsos also provides product testing, which makes it even more interesting for anyone who would like to take on this route.
There is an option to cash out your earnings in for of Amazon Gift Cards.
16. RecycleBank – Help Earth stay green & be rewarded
Official site: https://www.recyclebank.com/
This is one of those sites where you not only earn cash for recycling, but you also learn something new everyday.
It is basically a GPT site that educates the masses on being environmentally friendly.
You earn points by reading articles written about taking care of the environment. I am not sure if there are any other sites that provides the same service, but this is one for the planet.
Once you've done your part to save Earth like what Captain America used to say, you can then redeem prizes or Amazon Gift Cards.
17. Gazelle – Buy and Sell used eGadgets
If you have old electronics and you feel like you don't need them anymore, you can trade-in at Gazelle for other rewards. You don't need to throw it away when you can make more out from it provided your products are as good as new, you'll receive a good amount for them.
18. mPLUS Rewards – Earn for your loyalty
This is a group of apps that enable you to earn points for doing what you like most inside your own mobile devices.
Do you like reading news?
Play games?
Then this is for you,
mPLUS Rewards, formerly known as mPoints, rewards its users for reading the news or playing games on their apps. You can use the points you receive to earn Amazon Gift Cards.
19. Amazon Associates Program
This is one of earliest affiliate programs since 2000 that allows any online users to earn anywhere from 1% – 10% fees when they refer a user who purchases on Amazon.com
If you have a website or your blog frequently, this is for you.
If you're a writer or an author, you can start earning Amazon gift cards by inserting links from the Amazon associates program into your e-books.
This is exactly how I earned hundreds of dollars of Gift cards from Amazon every other month without lifting a finger.
A reader or fan who reads my books, who decides to click on my referral links and end up buying a TV or any other product on Amazon would make me $$$.
Even if they do not buy for the next 2 months, in the 3rd month if they buy something, I will still be credited with the referral fee. (The cookie is stored for 90 days)
That's how powerful compounding interest can be!
Every month I will just receive an email from Amazon asking me to claim my Gift card.
20. SavingStar – An App that gives you money
This is just a similar website to Ibotta where you get a cash back on grocery purchases. They also have an offer every Friday that you can take advantage of.
Take a picture of your receipt from over 70,000 participating stores and the earnings you receive on this website can be turned into Amazon Gift Cards.
21. AppKarma – Try New app and earn
Who says karma can't be fun?
Pay it forward by testing different types of new apps. If you are a gamer, you can try new games here and earn some extra gift cards from Amazon.
Final Thoughts
Even if you're a newbie on the web.
Even if you're used to spending days and weeks trying to make extra cash.
Even if you don't know how to setup a website.
You can start earning gift cards from Amazon just by answering surveys or installing apps.
This is proof that it doesn't require any form of online wizardry in order to start earning a few additional hundreds a month.
The process may take some time and patience, but once you get the hang of it, you will easily save hundreds a month on almost anything.
Are you interested to learn more free ways to earn Amazon gift cards? Please share some of your best strategies in the comments below and I will add it into the post above.
Are You Interested In Publishing Books on Amazon?
Publishing our books on Amazon was not rocket science
You can copy my success by taking our free 12 day mini course on how to turn your passions into profit on your own.
In this 12 day mini course, I reveal the Exact steps that my wife and I took to build a 6-figure income in a span of just 2 years. Best of all, it's absolutely free!