In my previous blog post on my crash course in investing – part 1, I pointed out how there was little to no money at the beginning to invest, so I took a crack at budgeting to grow my Amazon publishing income.
On October 2013, i hit my first 4 figure check – $1249.89
January 2014, saw my first 5 figure check for $12056.08
This check gave me the indication that what I did was incredibly effective. After spending a few months treading water with my low bank balance and then still more months of living on a tightrope, I decided to invest more into my system.
What I Didn't Learn from University
I learned absolutely nothing about financial education in university. Learned more from reading Robert Kiyosaki's Cashflow Quadrant when I was 15.
While I was sweating it out trying to cram formulas into my poor old brain and solving equations that didn't do anything to help with real life finance, my debt was growing larger by the week.
University was supposed to prepare you for the real world, and yet what it does is just prepare you for a job.
I graduated with $20-30,000 student debt and never ever made the connection between what I was learning in there with what I was going to end up struggling day to day.
When it comes to money, I didn't have any access to a lot of credit, and tried my best not to rely on my parents handout.
I had to be careful with my pennies. Budgeting helped me get through the year. Frugality and financial discipline helped me multiply my savings.
So in the end, scarcity actually trained me to adapt and improvise on my financial IQ. University only got me in debt.
How I Bootstrapped A 6-Figure Business from my Bedroom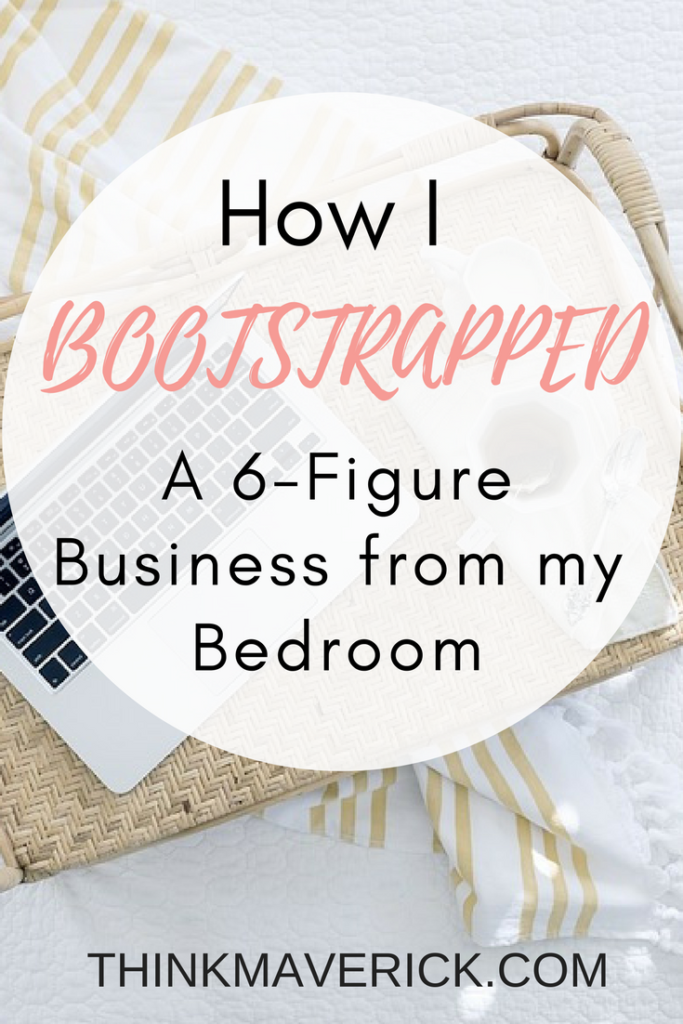 I could've found a decent-paying job as an Engineer, but then I took a shot at starting a business with my laptop from my bedroom.
I invested $4997 in an internet marketing course that taught me all the basics of setting a website and article marketing.
It was really expensive, and I have to admit I felled for the shiny object, but in the end it was just a stepping stone for me.
I had absolutely no ongoing income or paycheck to keep me afloat. All I had was the $X in my savings account from my student loan.
I grew my operation from the ground up, reinvesting a portion of my earnings back into my business. I was being frugal but smart about my expenses.
Here are a couple of things I've learned about building an internet bootstrapped business on a budget;
1) You'll Need to keep the cash flowing
Cash is indeed KING. Without cash-flow, I would not have been able to continue working on it for a second year.
9 out of 10 businesses fail because of the lack of "Money!"
That is your #1 challenge at the beginning. Most people who go to work for themselves don't have much money at the beginning.
Its the first problem you need to solve. Solve enough problems in your business and you'll thrive.
So how do you get funding without borrowing money from banks or go around asking your friends and family for it? Simple. You become a freelancer.
There are plenty of business owners out there who need help and are willing to pay you for the skills & knowledge that you have.
Freelancing isn't a job that requires a degree or a PHD. It certainly doesn't require you to take a test just to qualify. All you need is an internet connection and your laptop.
Some of the best sites to work for like Upwork has an estimated 1.5 million clients where you can get freelance jobs easily.
On the other hand, sites like Fiverr give you a simple solution where you can offer your services and skills without the need for a complicated setup. I've personally used Fiverr as well because it was super easy and it helped me make some money to fund my internet business.
What people want is to accomplish a small task at a small price, and that is how you start by building your reputation and reviews.
There's little to no risk doing this at the beginning. It could also be your ticket to getting a feel for the marketplace and how you could expand your business in the future.
2) You'll need to invest in yourself
I've noticed that without my initial investment to learn more about internet business, I wouldn't have made such great progress. Albeit, it was a very expensive investment. But it doesn't have to be so costly.
What i'm talking here is not your university education, but your business acumen and knowledge. Books are your lowest cost of investment for yourself.
If you're diligent enough, you can take great strides just by reading. Where do you think Bill Gates would be without reading 50 books a year. Warren Buffett says he spend 80% of his day reading books.
"Read 500 pages every day. That's how knowledge works. It builds up, like compound interest. All of you can do it, but I guarantee not many of you will do it." —Warren Buffett
Seminars on the other hand can be a great way for you to condition yourself not just to think but to act like a business owner. They're a great way to form masterminds and connect with like minded people.
I joined many seminars when I first started. It was addictive and at the same time inspiring. Why are seminars so important for people like you and me? Because we've been primed the wrong way in School, at home and all the way up to college. We've been programmed to think like an employee and a consumer. We need to be rewired to think like a business owner, a CEO and a creator. That's the biggest difference.
Take another step up, and you are looking at coaching. The most expensive but it can be the most effective. Look at some of the best athletes in the world, they all had coaches.
While it may be extremely costly, they can help you see the bigger picture. Sometimes all you need is a fresh pair of eyes to help point out your blind spots.
3) Reinvest And Scale Up
This is one of the biggest lessons for a start-up entrepreneur: the simple beauty of compound growth.
Einstein said that the most powerful force in the Universe is compounded interest.
It's easy to start making a few thousand from your business and go hog wild, spending up on new cars and clothes. I see so many people who jump into this trap and never make it out alive. They get sucked into this endless loop of desire to fill the void with pretty shiny things and materialistic social norms.
Be smart, only take 10% of your earnings to reward yourself.
The idea is…
… ultimately the more you reinvest your profits in your business – the more you pour resources into a model you know already works – the faster you'll get to join the millionaire's club. This takes discipline.
How should you scale up your business?
Work to improve your system by outsourcing unproductive and time consuming activities.
Sometimes you may be a bottle-neck for your business.
As a business owner, you need is to understand that activities that produce high ROI should be your priority. Low income activities for example; tech support has to outsourced or automated.
Most small business owners fail to realize this fast enough, that they gradually suffer a depressing fate of collapsing under their own weight of trying to do everything by themselves.
Sometimes you just have to recognize this truth and start to transition from a one person business to a team.
4) Let your money work for you
It's been 7 years since I started my internet business straight out from university. During this time, I considered quitting at least a dozen times.
Starting a business, let alone an internet business is much harder than it looks. In fact, the ease to entry makes it a hundred times harder than starting a brick and mortar business.
Frankly, most people don't really treat what they do online as a real business. They're not thinking like a strategic business owner.
You are the architect of your own destiny. So you have to think that way, otherwise you're just another number in a long list of business failures.
Right now, with the extra surplus in revenue, I'm finally learning how to make my money work for me in the long run.
I've been yearning for the longest time ever since I started looking at the cash-flow quadrant to be on the I-investor side of the equation.
After doing a lot of research into Bitcoin and other cryptocurrencies, I've finally decided to put a portion of my income into the future of money. You can read it here why all the fuss with Bitcoin…
Stocks, Real estate, Gold and Silver isn't really my cup of tea. I couldn't really see the purpose of gambling in the stock market. Heard of the dot com boom and bust, but I wasn't at the right age to experience all of that excitement.
Real estate only makes sense to me if i'm renting them out to earn passive income. Also managing physical properties sounds like a lot of hassle. Being a digital nomad feels more liberating than having a ball and chain to my legs.
I can see the point investing in Gold and silver for hedging against inflation of fiat currencies, but It is pretty troublesome verifying and transporting genuine gold and silver. Also you need a safe place to store.
Bitcoin and crytocoins on the other-hand solves all of those issues. Its the evolution of money and how the whole world is transitioning towards data-ism.
You can't duplicate more Bitcoins even if you wanted to. In countries like Zimbabwe, where chaos is rife; the price of Bitcoin rises stratospherically because people has lost faith in their own paper currency.
So its a good way to hedge against inflation. It can easily be transferred digitally without the trouble of transporting physical Gold and Silver. It's cheaper than that as well.
No one can hack into Bitcoin, and yet people can hack into Banks and governments. You can store it in your own mini-bank (hardware wallet like a Trezor of Ledger) You can easily travel with your money just by memorizing the passphrase of your wallet.
Conclusion
Whatever you have to do in your investing journey, apply these 4 simple rules and you will see that at the end of the day, it's all worth it.
You'll have to take risks. Probably jump off a cliff without a parachute like me. Your character will be tested, mental strength maxed out. You'll be stepping out of your comfort zone each time.
But at the end of the day, it's worth all the sweat and tears learning to invest in yourself and your business for life.
Because you can never put a price tag on freedom.
If I've missed anything at all, please feel free to chime in with your thoughts.