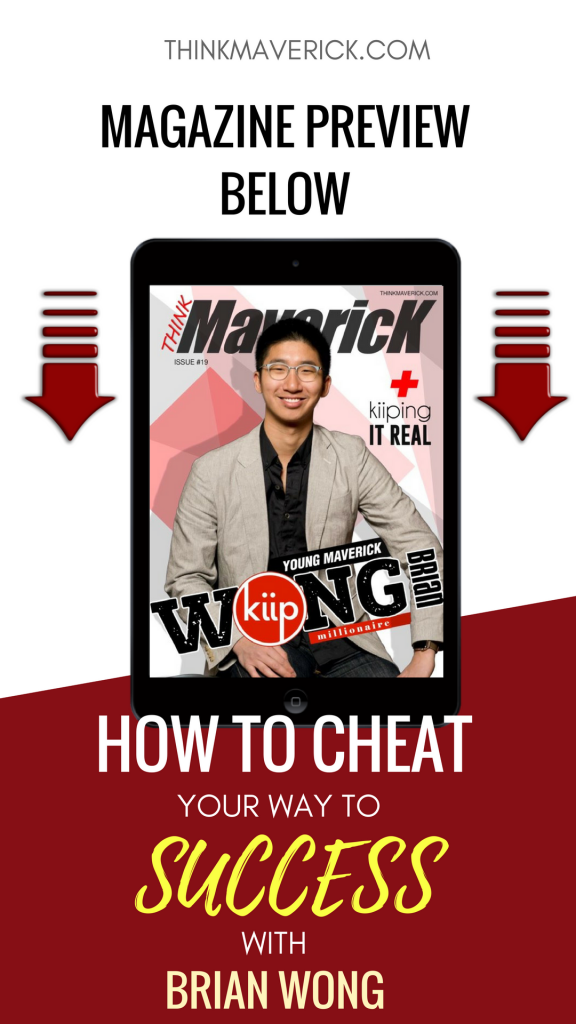 One of my primary goals with ThinkMaverick is to introduce you to individuals I know who have managed to start from nothing and build something extraordinary using their own unique set of insights and abilities.
Well the young Maverick I'd like to introduce you to today is just such a person, and what I've learned from him over the past few months about being a trailblazer and building a brand has changed my entire outlook on marketing.
Most people will recognize him by his boyish charm and his positive yet blunt outlook on life. His name is Brian Wong and he is the brainchild of a mobile rewards network called Kiip (pronounced "keep") that redefines mobile advertising by rewarding moments of achievements rather than disrupting them with annoying ads.
Brian Wong is a self-made maverick millionaire by 20, and now at the age of 26, the company that he founded, Kiip, is on track to do more than $20 million in revenue for 2017. His company is working with mega corporations like McDonald's and Coca Cola.
Brian's Awards & Recognitions:
One of Canada's "Top 20 Under 20"

Business Insider's "Top 25 Under 25 in Silicon Valley,"  "30 Under 30 in Advertising" and "18 Most Important People in Mobile Advertising"

Forbes' "30 under 30" for three years

Mashable's "Top 5 Entrepreneurs to Watch"

iMedia "25"

AdAge "Creativity Top 50"
Even though Brian is an incredibly successful entrepreneur, he's managed to avoid the entrepreneur pitfalls that comes with risk-taking.
Read this latest issue of ThinkMaverick, and you'll learn how to shortcut your way to success one day at a time, how to build a brand, even if you're starting from scratch, and most importantly … How to know what you're good at and play by those strengths.
Enjoy, and please leave your comments for me below! (I read them all!)
If you love what you discover in this latest issue, please share this page with others and rate the Magazine app on iTunes. We simply can't grow without your support!
Become a Maverick…
Do you have an idea or skill that can change the world for the better? Ready to build your empire? Want to become an entrepreneur, but not sure where to start? Click here to download my personal Maverick program…
No Time To Read? Download This FREE PDF: Brian's "69 Secret Hacks"