This is an ultimate guide to the Amazon Affiliate Program for beginners. Follow this step-by-step tutorial to signup for an Amazon Affiliate account and learn how to create Amazon Affiliate Links.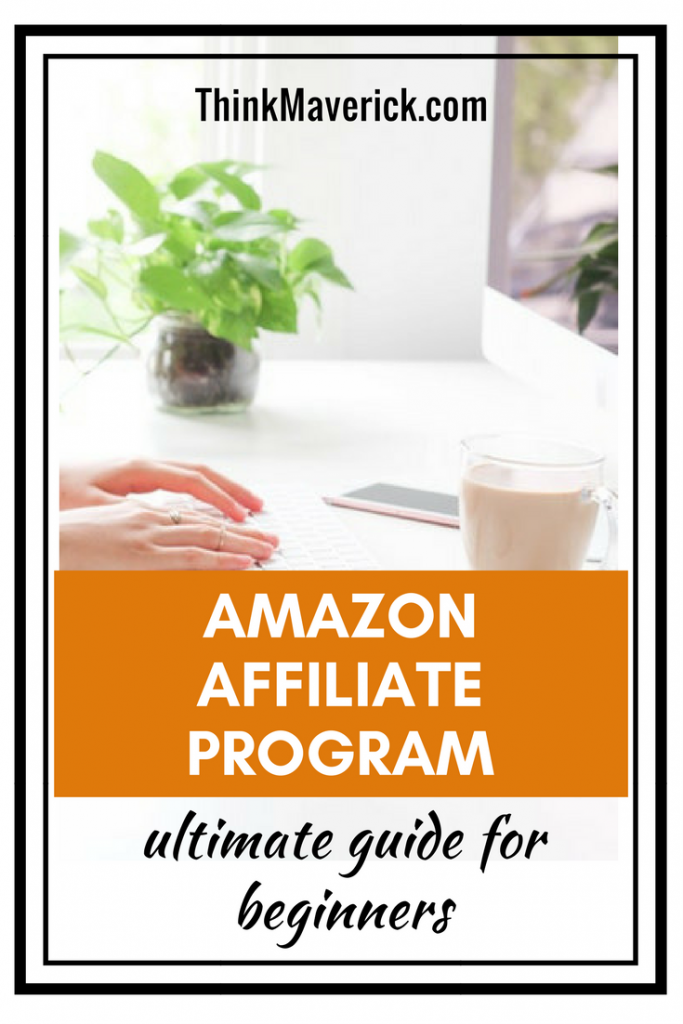 In my earlier post, we talked about Amazon Associate Program, which is our TOP favorite way to earn Amazon gift cards. But what we didn't talk about is that you can make pretty sum with their affiliate program too. That's a huge potential if you do it properly! That's what I'm going to discuss today.
There are different ways you can make money on Amazon. In fact, my partner and I have started our 6-figure online publishing business through Amazon. However, I realized that one of the easiest and most powerful ways for newbies to get started is to make money as an Amazon Affiliate. 
"I learned that, if you want to make money, you've got to make it when you sleep." Bob Parsons, Founder of GoDaddy
Why Amazon?
Amazon is one of the biggest retailers in the world and so do their affiliate program. You can sell almost anything using its platform.
What's more? It's free to join. But you need to have your own website or mobile app before signing up for Amazon Affiliate program. If you don't have any of them, the easiest way is to set up your own free blog. You can start one right here.
It's a good way to make money online. Depending what kind of sale you're making, you can earn up to 10% of the sale amount.
What you have to know is that you don't just get paid for the products that you refer to. Once you refer a person to Amazon site through your link, you'll earn commission for the total orders placed within 24 hours(affiliate window). 
What if no product purchased during the 24 hours of landing on Amazon? Don' worry, you will still earn commissions if item added to cart within 24 hours period BUT purchase must be made within 89 days (cookie period).
Are you ready to start creating a passive stream of income with Amazon Associate?
Let's get started.
Step-by-step Guide to get started with Amazon Affiliate Program
1. Go to Amazon Affiliate Site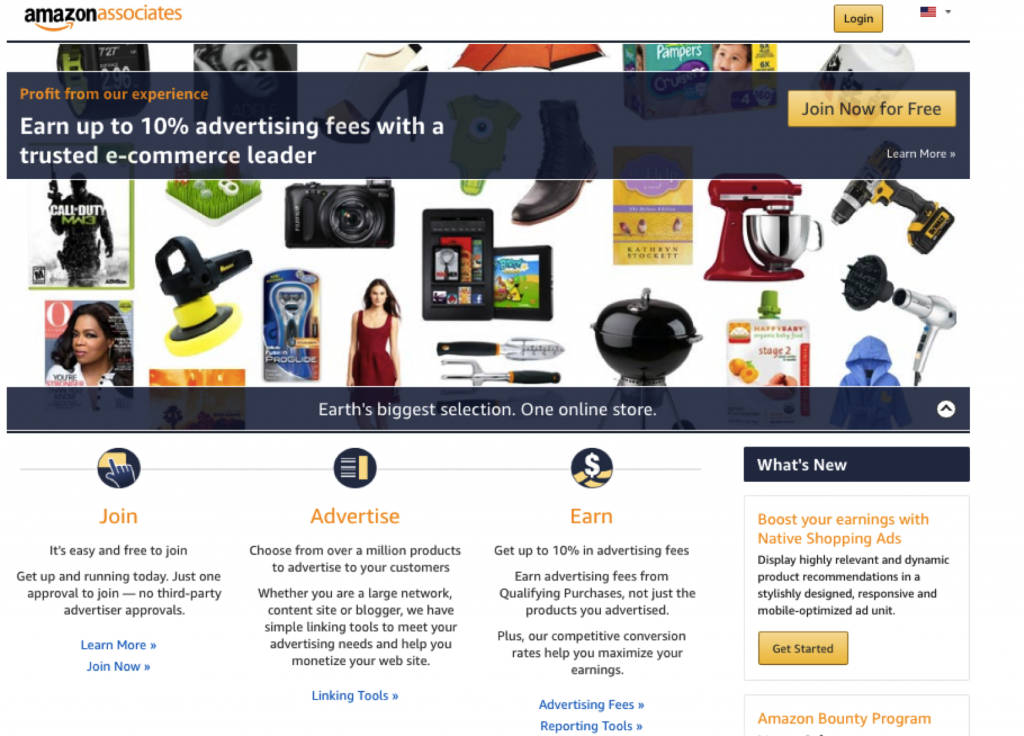 To get started with Amazon affiliate program, you need to sign up for a free account depending on your target marketplace or geographical location. Use this link
Select your country; click "Join Now for free"

2. Sign up
You will be directed to a Login page.
Enter your email address, select "I am a new customer" and create your password.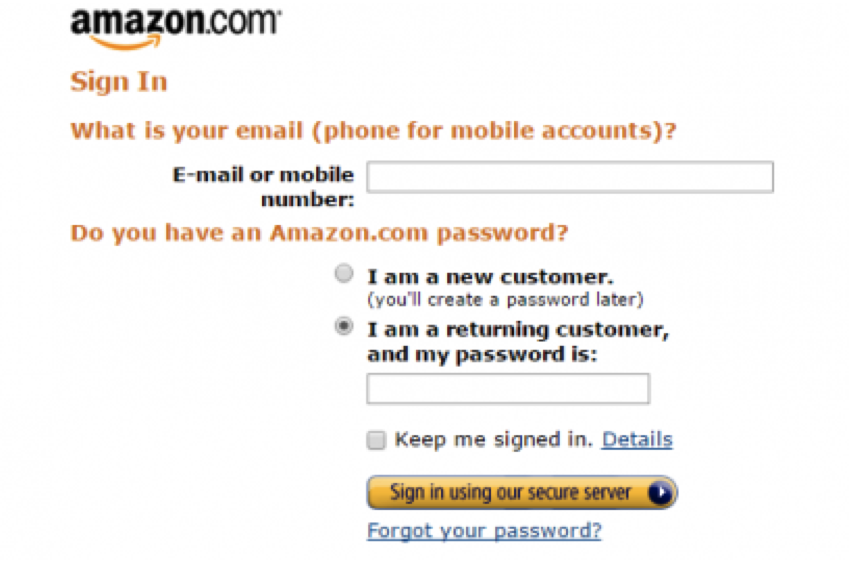 3. Website and Mobile App List
In this step, you have to enter information about your websites or mobile apps URL that you're going to use to promote the products.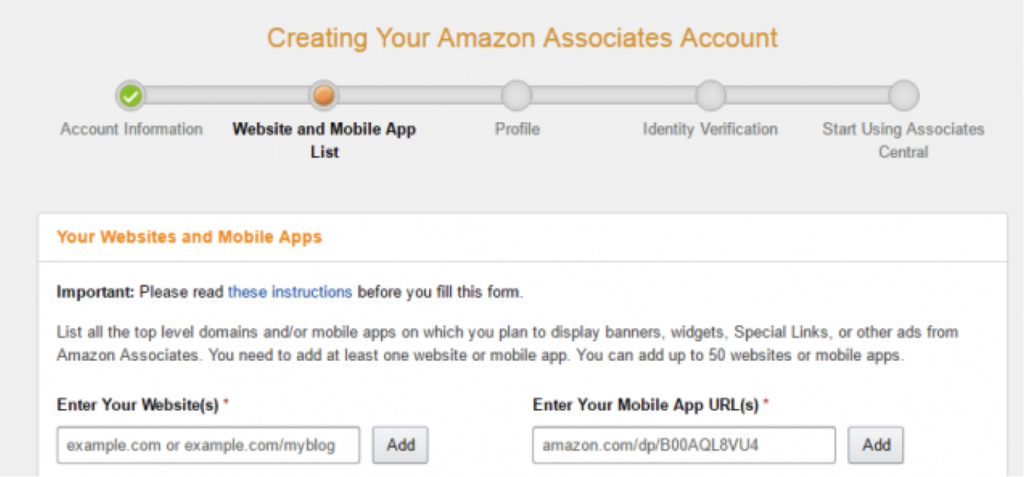 4. Profile
In this Profile section, you need to provide detailed information like Associate store ID and topics that describe your Website or Mobile apps the best. This will come in handy later as you'll get some relevant products recommended by Amazon.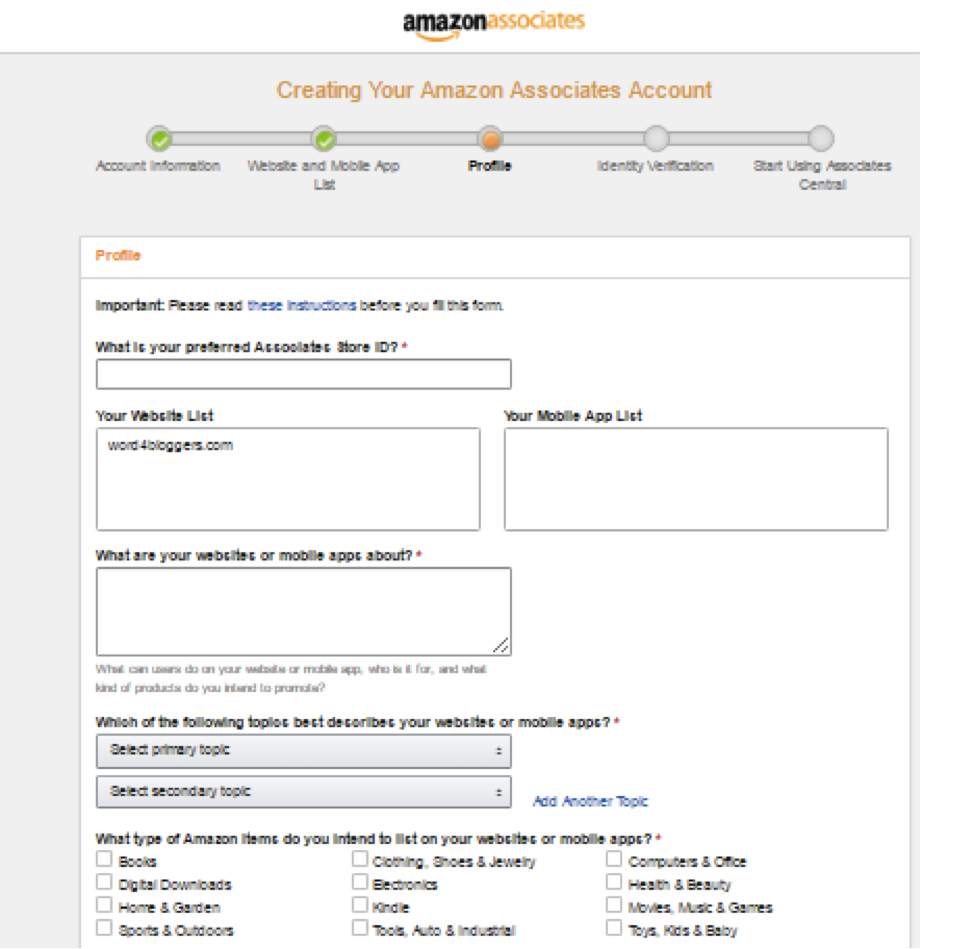 5. Verify your Identity
After making sure all the information entered is correct, you need to verify your identity.
It's simple! Enter your phone number and a PIN number will show on the screen. Then you will receive an automated call that will ask you to verify the PIN number.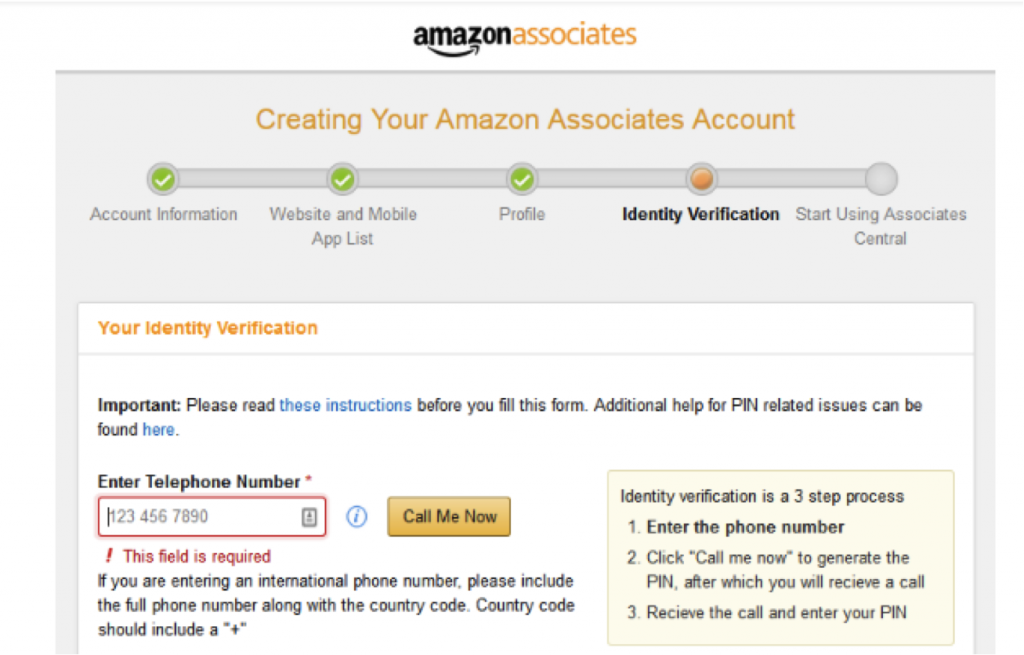 6. Choose your Payment Option
Next, you have to choose your payment option. You can skip this step and do it later, but why wait? Remember you won't receive any payment until you fill up the payment information.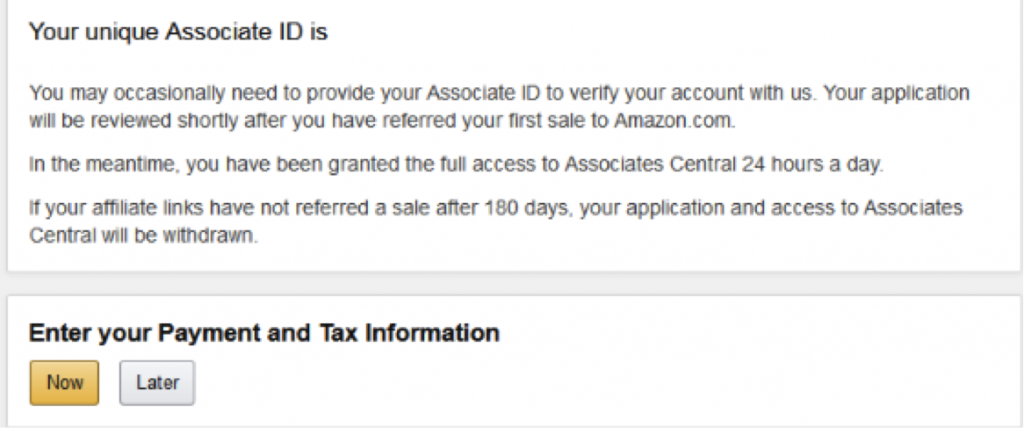 There are 3 payment options:
Option 1: Direct Deposit: minimum payout$10
Option 2: Amazon Gift Card: minimum payout $10
Option 3: Check: minimum payout $100
7. Create Amazon Affiliate Link
Welcome to the Amazon Associate program. Now you can start using this affiliate program.
You need to create your own affiliate link for the product that you're going to promote.
To get started, search for a keyword or ASIN/ISBN number in the search bar.

It will show you a list of relevant products.
Click "Get Link" button, you will be directed to the product preview page where you can customize and get links.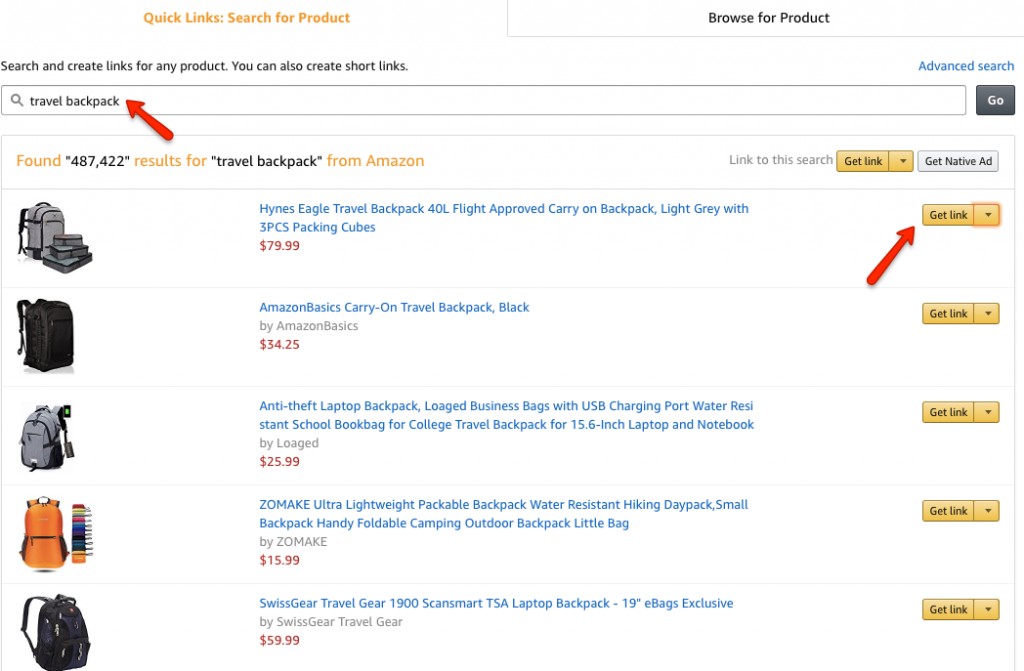 8. Copy your Product Link
It lets you create different types of links depending on your niche. You can get text links, banners or widget and start to monetize your websites.
Once you've decided how you want the product to be displayed on your website, you can copy the code provided to build your own individual link.  You can now place the code on your websites, blogs or mobile apps.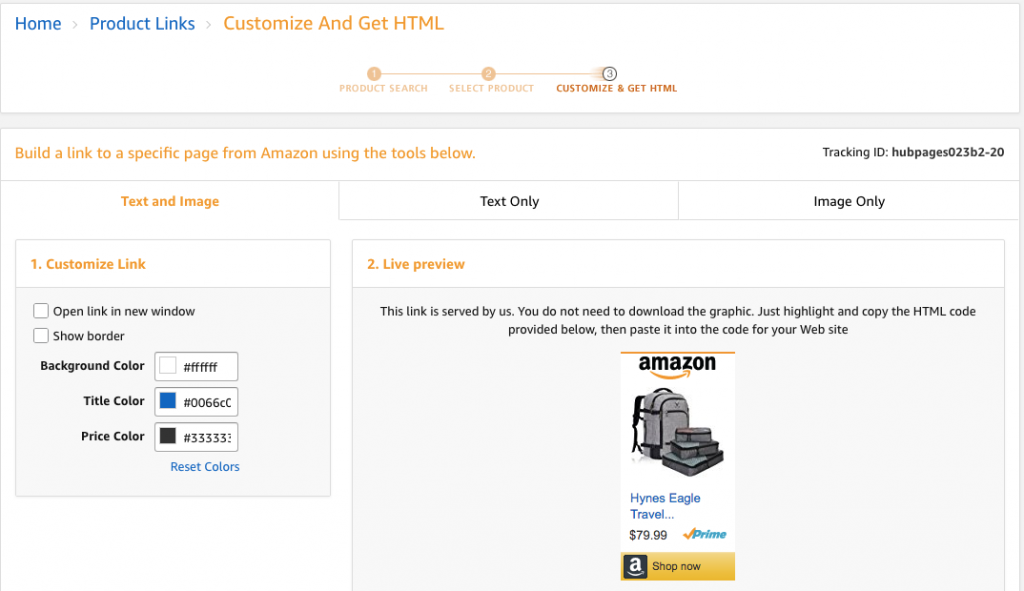 9. Amazon Associate Site Stripe
Alternately, you can also create Amazon affiliate links directly from Amazon's shopping website. I think this second option is much easy to use.
At your top left corner, you can see the option called Amazon Associates Site Stripe.
Click "Get Link"> "Text"
Here's a screenshot of how it may look like…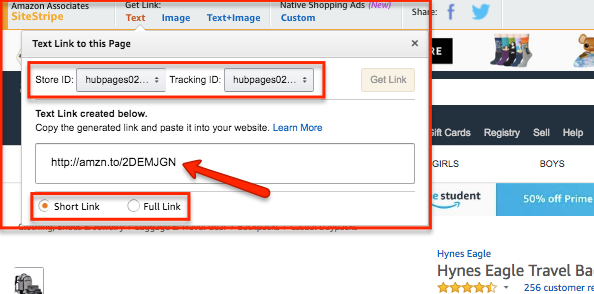 There is an option for you to change your store ID or tracking ID too. Nothing too complicated, they are for tracking purposes, we will discuss it in our upcoming posts.
If you want to change your Associate Site Strip display, you can do it here.
10. Adding Amazon Affiliate Links to your Blogs/Websites
After you've created your affiliate link, you can place them on your blog or website. The process is same as adding any other links to your blog. Simply select the desired words and paste the link that you've created above.
Conclusion:
It's easy to get started with Amazon Associate and start to monetize your websites. Although you can't see much profit at the beginning, with the power of compound interest you really can't overlook this opportunity in the long run.
Do you have any concern not to have this extra passive income stream? 
Do you have any problem or question following this tutorial to create your Amazon Affiliate link? Feel free to comment below
If you liked this post, don't forget to share it on Facebook, Pinterest and Twitter.
Are you interested to create your own publishing empire? Sign up my free 12-day mini e-course below.