The year 2013 has arrived and we are already half-way through it. A frequent asked question these days – how do I actually get started making money on the internet?
With this post I hope to shatter the glass and bring some light into this area. And hopefully this would get you started.
Despite the non-believers; there are plenty of people who have already made it in this thriving industry making close a minimum of $100/day without having to work in a full time job.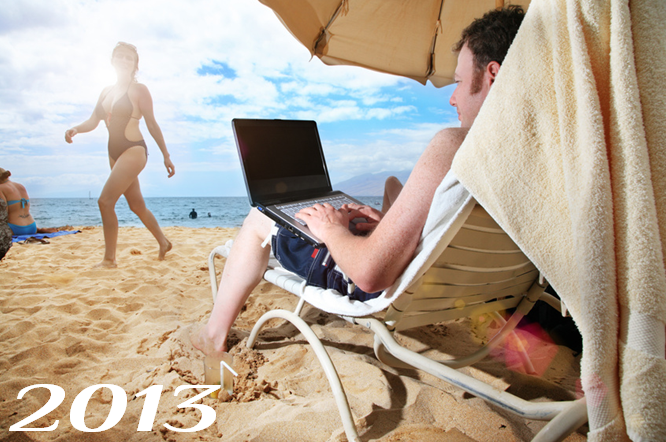 Here are some ways that could get the ball rolling for you, especially if you're still trying to make your first dollar online.
Types of Online Opportunities
Generally most of the opportunities available require some form of writing capabilities. If you can write an email, most probably you'll make the cut. In the past decade alone, almost 80% of the online money making industry consists of writers, authors, bloggers, and social media enthusiast.
The remaining 20% of the demography of online money makers are web designers, online shop owners, software and application makers and other multimedia requirements. But this would require some technicalities and a high level of skill in multimedia and programming.
Online Writing Opportunities
For those who were born with tongues as sharp as swords and pens as elaborate as a garden during summer, there are plenty of money making opportunities available out there on the internet.
#1. Pay-per-post
We should always keep in mind that most websites earn from the advertisements they host in their site. A website that possesses a significant amount of followers and readers and can generate huge amounts of traffic will most likely be noticed by advertisers. To attract traffic and to have a following, it all comes down to how good your content is to benefit readers.
"If you want traffic, write amazing stuff. If what you have to say is great, then people are going to keep coming back. Ultimately, that's all it is."
The more significant the contents of a website and the more content it has, the better. This is the same story that applies in pay-per-post websites. Websites like Postloop and PayPerPost welcomes members who are capable of writing contents for a product, service, giving testimonials or any kind of products which requires such promotion.
Members are required to have a blog or a website that has been around for at least 3 months and has a considerable amount of traffic and followers. They receive payments up to 10$ each or even more for a post depending on the number of words the content has as well as the page rank the blog possess.
#2. Writing Reviews
One of the review writing sites I have been working at for quite some time is Reviewstream.com. Product reviews are mostly what the site requires. Reviewers can start selling their reviews at a bulk rate of 0.10$ per review. Those members who were able to achieve the "trustworthy" status are paid between 2$-5$ per 300 worded review.
There is no limit in creating a review, so writers can really make the most out of this opportunity. A typical review usually includes a personal experience of the reviewer towards the product, service or accommodation she is writing about. Having the capabilities to review these products and services via the first person perspective in a businesslike and professional way will do wonders on your balance account in the site.
#3. Blogging
Blogging may seem to be the most common stepping stone every writer must possess before actually creating a name in the online writing community. Creating a blog and maintaining it is a very integral step in creating a name for you online. It serves as your online blueprint.
Blogging can be very enjoyable unless your only focus is to make money. It doesn't really reward you in dollars per se, but in the long run it does bring lots of intrinsic value to your business. This is a platform for writers who would like to share their knowledge or even bits and pieces of their daily lives online.
Everyone knows that bloggers gets revenue from their blogs through the advertisers that their content attracts. Blogs about cars usually have car rentals or car accessories advertisements popping here and there. Specializing in a niche you are good at is the key to attract tons of traffic as well as advertisers to your blog.
The challenge in blogging is keeping your content up-dated. You may have posted an article a month ago that is not as relevant as it is at present. Write your content based on your targeted audience and add a personal touch to it and you will never go wrong.
The best articles let readers learn from your experience, your mistakes, and your knowledge. Always focus on benefiting readers: When you do, your blog would bring you undisputed recognition in the online community.
#4. Ghost-Writing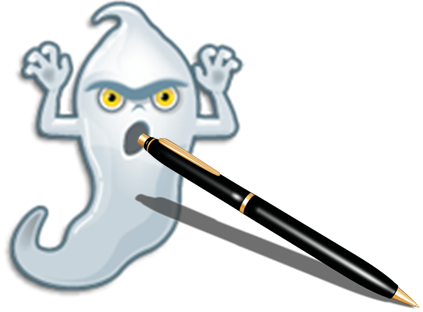 Some have the talents in writing, some do not have. But most of the people who do not have the talent in writing have the resources in getting someone who does. This is where ghost writers are needed for.
These people are individuals who write articles, e-books, novels and stories for people who can pay for it and willingly accepts the condition that they have no right or claim to any written material they have submitted to a client.
Some writers on the other hand, chooses not too in hopes that their novel may be the next bestselling novel in the country. Yet you will be surprised with the number of writers who are willing to write content for people who would get all the credit for money. If you do not mind seeing your article posted online or published in books and on magazines with a different name under it, ghost writing is one of the writing gigs you should try.
#5. Participating in Forum Sites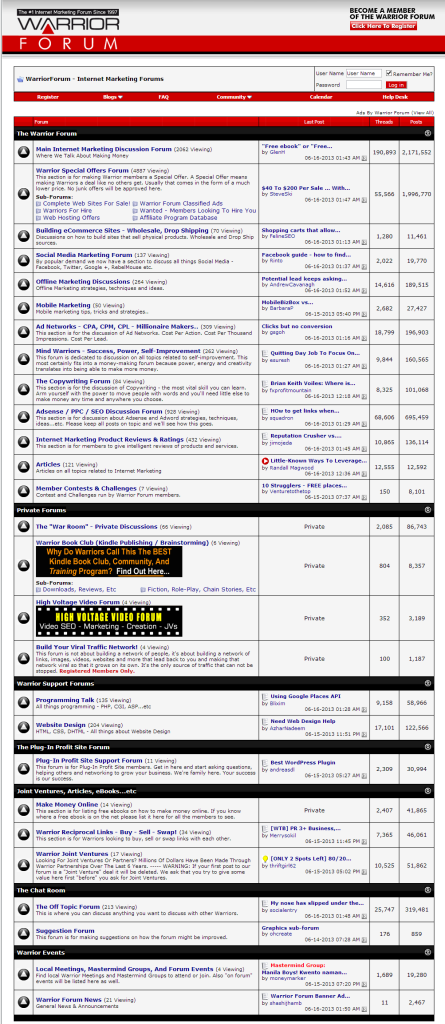 Warriorforum – an Internet Marketing Forum
People love to share things. They take pictures of the food they eat, Tweet about where they have been too, where they are and where they are headed too. I guess it's a human nature to let people know about the things we do, no matter how significant or insignificant they are. This personality in a writer is perfect for forum sites.
Bubblews.com is one of the fastest growing forum sites in the worldwide web nowadays. It was founded just a year ago but was able to attract hundred thousands of users worldwide. Just like any other site, its revenue is mainly from the advertisements its websites gets. Members on the other hand are the ones who write content for the site.
From personal issues to political views and regional news, members are paid for writing, reading, commenting and liking other member's contributions. The site is very interactive. Members earn a minimum of a dollar up to 10$ a day via the posts and the traffic their articles get from the other members.
#6. Self-Publishing an E-book
Self-publishing your 12 paged recipe book or your 100 page Tip on How to Make Money Online proves to be extremely costly when you're trying to publish conventionally through major publishers. It is not just costly but it requires you to have an actual publisher and a publishing house that is willing to print the books for you.
This is not the case when you're self-publishing. As easy as 1, 2, 3 you can self publish a book you have written through Amazon.com . The best way so far to self-publish your own masterpiece. Bear in mind, amazon direct publishing allows you to reach out to over 100 Million Amazon shoppers who have their credit card details with Amazon. They could buy your book with a simple one-click of a button.
You get to use Amazon's amazing platform with just a small 30% royalty fee. And you get the remaining 70% of the price of your book, which depends on the price you set for
your book. You may think it's small money, but the key to a successful e-book campaign is consistently publishing Great content and marketing it with various internet marketing means. Turn your bright ideas or concepts into words and do your research before attempting to write on a specific niche.
If you do the math, a $2.00 profit from your book with a target market of just 0.1% of 100 Million buyers, you could be earning some substantial amount of money if you continue to publish Great content and publish it consistently. Don't just stop at 1, 2 or 3 e-books, the more you publish, the more passive income you'll make.
Here's a Great New Book we wrote for our Kindle community at ThinkMaverick who wants to learn how to publish on Kindle Step-by-step: How To Publish on Kindle in 12 Simple Ways!
#7. Writing and Selling PLR Articles
PLR articles or Private Label Content are articles written with the purpose of selling these articles and reselling it again to interested users. It may be confusing but PLR articles are created in general format to allow the potential buyer to alter these article into 10 or more articles with the same thought and meaning without actually plagiarizing the content.
Imagine buying a PLR article for 5$ that can be altered into 50 or more articles you can use and post into different websites and blogs that directs them to your main online money making website. That's more than enough value for your money. For writers, writing PLR articles and e-book is more time consuming than writing normal articles.
It takes great writing skills to be able to create a top of the line PLR article. I've known a couple of internet marketers who made it big in this niche and they still are. One of them is Ng Khai. 
Other Online Money Making Opportunities
Besides writing, there are still hundreds of ways to make money on the internet. These opportunities require a different set of skills but just like writing requires a persistent, patient and positive attitude.
#8. Posting and Doing Micro-jobs
Imagine buying your dream house from the 4$ you earn in every video testimonial you create? Seems impossible right? It isn't. Here's proof of this Top seller in fiverr who made it in this platform.
Anarcho says, "In many ways, not only did the money I spent to purchase the house come from Fiverr, the inspiration did as well." With the housing economy what it is today, anarchofighter found a great deal and was able to work with the bank to purchase the house for less than was owed by previous owners and even less than it's worth.

The house is a 3 bedroom, 2 and a quarter bath, brick ranch with a full attic and basement (both unfinished).
More and more members of the micro-jobs hosting site Fiverr.com are starting to give up their day jobs and are focusing on the gigs they sell on the site. The website just like other micro-job hosting sites encourages members to post a specific gig they are willing to do for 5$.
Fiverr.com gets 20% of the payments their members received. To be able to post a gig or to buy a gig, registration is required. As far as micro-job hosting sites are concern, Fiverr managed to create an effective system in getting clients, getting contractors and processing of payments between the two. Once an individual purchase a gig, they are required to pay for it in advance.
Sellers are already guaranteed that they will be paid from the gig the buyer had purchased. All they have to do is complete the job and wait for 3-5 days for their payments to reflect in their account. Sellers on the higher levels are earning at least 50$ a day doing the gigs they have posted in Fiverr.
The Popular services offered on the site are writing jobs, multimedia design, video testimonials, photography and much more crazy stuff. Go check it out!
Some members are even willing to sing and record a birthday song for someone you would like to dedicate the song to in thongs or in weird outfits. One thing is for sure, this site is one resource you can never do without.
#9. Participating in Freelancing Sites
Freelancing sites connects employers to employees. Whether you're a manager that requires to have your documents audited by an accountant without actually employing an accountant or you're a freelance design artist looking for prospect clients; this kind of websites are for you. Some of the popular online freelancing websites are Odesk, Guru, Elance and Freelancer. From writing jobs to book keeping to online telemarketing and translation; you can find almost anything you need in these sites.
The challenge in freelancing sites is the process of bidding for a job. A list of jobs is posted in the site with the corresponding budget as well as the details and requirements the contractor needs. Interested applicant will bid on the project by submitting a letter of interest in applying for the job together with credentials and work samples that serve as references for the contractor in choosing a bidder.
It takes a lot of patience before landing your first job in this kind of sites. You need to have samples, portfolio and credentials to establish to increase the possibilities of getting hired. Once hired, you will be surprised on the amount of work and money you could potentially earn in doing jobs in the site. You can either choose one time projects with fixed rates or hourly jobs. The possibilities of getting a home-based job through these sites are higher than any other online money making opportunity.
#10. Joining Pay-per-click Sites
These kinds of websites are almost equivalent to your offline multi-level marketing businesses. The more individuals you invite from this site, the higher are your earnings. Referrals in this kind of online opportunity are called down lines. For every advertisement you click in a day, you earn a cent or tow. You also earn a certain percentage from your down lines daily earnings as well as the down lines your down lines manage to create.
Popular pay-per-click sites that are still legit and paying are Neobux and Clixsense. Those who have managed to create a massive down line are earning more than 500$ every month. The challenge in these kinds of websites is to have a marketing strategy that will attract potential down lines in participating.
#11. Creating and Selling Website Design
The market or individuals who will mostly likely purchase a website design or will hire a website designer are continuously increasing because of the buzz created by online money makers. More and more individuals are starting to pay attention and gain interest in creating a website that could potentially create revenues for them. Creating, selling and providing design services to these target market is at its peak.
Skills and knowledge in programming is not something learned over night so interested website creators will definitely need an expert or two. You can sell a web design template exclusively with a higher price or a template at an affordable price but is open for download to the public. Price tags for website templates can range to 10$ – 300$ depending on its features.
#12. Affiliate Marketing
Affiliating marketing is also a Great source of income online. All you need is to have a website or a blog which you will then review your affiliate products. Every sale of an affiliate product that comes from your website will earn you a commission of up to 70%. This method requires more strategies to implement if you want a sizeable amount of passive recurring income. But once you get it right, be prepared to earn lots of money! 🙂
#13. Up to your Own Creativity…

The internet is continuously evolving. As it grows and develops, more and more exciting opportunities are being available to the public. All that is left for us to do is to pump our creative juices, grab our pens and papers and start writing those bright ideas down. Share these to the world and be surprised once you start cashing in the fruit of your labors you will never look back at getting a full time job.
Share some of your money making success stories below, it can be as low as one dollar, or even a million. I'll be happy to feature you in our ThinkMaverick Magazine if your story is awesome!